The Victor-Victrola Page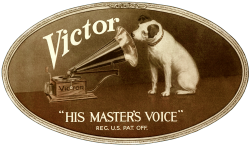 Victrola VE-XVI in Vernis Martin Finish Serial Number 8800A


---
Build Date: 1916
Originality: 1 Untouched original, right down to turntable felt
Overall Condition: 4 Acceptable overall condition showing less than average wear for this fragile finish
(See the Ratings/Condition page for our grading scales)
Click any thumbnail image for high-resolution picture.
See it in action on YouTube. Click here.
Here is a good example of one of the rarest and most desirable machines that was ever produced by the Victor Talking Machine Company. In 1916, the VV-XVI model was considered the company's flagship model, with Victor's best 3-spring motor, gold-plated hardware and a substantial cabinet with elegant hand-carved corner trim. The base price was also considered very substantial at $200.00. On top of this, several finish options were available, including mahogany, oak and (for $50.00 extra), a highly figured Circassian Walnut veneer. At the very top of the line, the exclusive "Vernis Martin" finish was offered, which consisted of hand-painted figures over a gold-leaf base. In additional, an ornamental scrolled-trim border was added to the doors and lid. With a mammoth base price tag of $400.00 in 1916, only a select few buyers could afford such a luxury. This was at a time when the average worker made about $300.00 per year! Top it off with the $50.00 electric motor option, the VE-XVI Vernis Martin package sold for $450.00, which equates to over $11,000.00 in today's money! The Vernis Martin finish was listed as being available only on the VV-XVI, VV-XVII and VV-XVIII models, although a few other high-end models with this option have appeared in recent years. While it had a stunning appearance when new, the gold finish was not very durable. Even when it was first introduced, there were numerious problems reported by dealers and customers. The careless freight hauler who left a Vernis-Martin sitting outside in in sub-freezing temperatures (even in the original sealed crate) could readily cause the finish to crack or craze, which was noticed right away when the dealer unpacked it. It was very easily scratched or marred, and when exposed to heat, dampness or other elements, it would quickly deteriorate. It is not uncommon to find these examples with the original oil paintings blurred into a muddled mess, and the gold leaf mostly worn away on the exterior surfaces. In many cases, the inside surfaces (under lids and inner doors) tended to fare much better that the outside of the cabinet, since they were better protected,
It goes without saying that very few of these machines were originally produced, and it is probable that less than 100 Vernis Martin machines have survived. As of this date, a total of only 34 Vernis Martin XVI (spring-wound and electric) models have been logged in the survival database, out of more than 20,000 total XVI entries (all finishes). Of those 34 survivors, just 19 have a reasonably intact finish. Five examples are known to have somehow survived in exceptional (near-mint) condition, and these machines are absolutely spectacular to behold. While this example does not fall into the 'exceptional' original category, it certainly is far above 'average' by any measure.
Collectors who find Vernis Martin examples in typical rough 'attic stored' condition often have them re-done by stripping-off the worn finish and gold underlayment, reapplying the gold leaf, and then having them repainted by experts in this type of restoration. In those cases where the inside areas (under the lid and the inner door surfaces) are well-preserved, only the exterior surfaces will be restored. While this exhaustive (and very expensive) restoration process certainly improves the appearance of the machine, it can no longer be considered an original finish, and then must be classified as a partially-restored example. In many instances, the owners have no choice, as the original finish was far too 'toasted' to be considered presentable in a serious collection. But once the finish has been removed, the originality is then gone. Even the best restoration artists today have a tough time replicating the original paintings accurately.
This example is absolutely 100% original, right down to the turntable felt. Nothing has been touched-up, modified or polished-out. As expected, it does show considerable wear on those surfaces that were commonly touched by users over the years, and there are some obvious dings and chips, but none of these are too large to touch-up (if desired). The exterior has light to moderate crazing, and there is some of the typical 'blurring' of the painted images. But as can be seen in the pictures, the painted details are all there, and are certainly strong enough to be seen clearly. While the machine certainly isn't 'mint', it is an authentic original, and shows magnificently.
Finding a similar original (unrestored) set of this quality and scarcity would be nearly impossible today. Some, in far lesser condition, have shown-up at auction, and have brought very significant prices, especially considering the amount of additional work required to make them presentable. This is the first time we have offered a Vernis Martin machine, and it should be considered a great opportunity to own a Victrola of this extreme rarity. The buyer can choose to show this Victrola 'as is', or have it professionally touched-up or reworked to enhance its appearance. It deserves a prominent place in an important collection, or as a display item in an elegant music room or parlor. The original electric motor and mechanical components have been cleaned and lubricated, and runs well, albeit with some of the typical governor-noise that is common on these early electrical models. Electrical connections and wires have been tested and safety-checked. It plays magnificently and the sound will fill virtually any room. The price has been determined based on rarity, correctness, and overall condition. It comes with the original set of Victor record albums.
You can learn more about the Victrola XVI by clicking here.
As with all our phonographs, the motor, soundbox and all mechanical components have been torn down, cleaned and correctly rebuilt. It comes with our limited warranty.
$ 7,750.00

Click any thumbnail image for high-resolution picture.
=
---