Our Promise: Warranty Terms
---
We have the best warranty in the business!
Victor-Victrola warrants any spring-wound or electrically powered Victor or Victrola phonograph (excluding automatic changer types, as noted below) purchased directly from us as follows: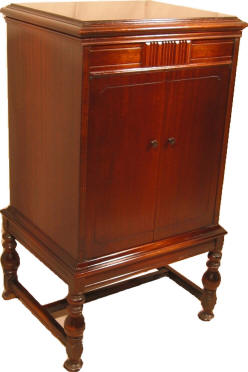 All mechanical parts and systems intended for the purpose of sound reproduction are fully warranted for a period of two years after date of purchase. This includes failure or poor performance due to wear, physical impact, misuse, accidents, or defects. Victor-Victrola will cover the cost of parts, labor and round-trip shipping for the following components:
Soundbox and all related components

Tonearm and tonearm support bracket systems

All motor, speed governor, cranking systems and spring components

Speed control and indicator systems

Turntable and spindle systems (excluding felt cover)
This warranty does not include coverage for any form of destructive damage due to fire, flood, wind, building collapse, theft or other external factors that constitute "beyond reasonable care"
Steel needles are intended as replacement items, and should be changed with every record that is played. Needles are not warranted, nor are we responsible for wear or damage to records.
We are not responsible for any personal injury due to misuse of the phonograph.
No warranty coverage is made for cosmetic damage (scratches, gouges, abrasions, cracking, splitting, dents, chips, water damage, etc.) to cabinets or other appearance components, including:
<![if !supportLists]> o <![endif]>Cabinets, legs, horns, doors or lids
<![if !supportLists]> o <![endif]>Cranks or crank knobs (unless damage prevents proper operation of phonograph)
<![if !supportLists]> o <![endif]>Trim or carved pieces or horn support systems
<![if !supportLists]> o <![endif]>Hinges, knobs, lid support brackets
<![if !supportLists]> o <![endif]>Locks, bezels or other ancillary hardware
<![if !supportLists]> o <![endif]>Turntable felt or other fabric items (grillecloth, pads, etc.)
Warranty claims can be made directly to Victor-Victrola via the information form included with each phonograph. We will cover all charges related to shipment and return of any warranted failed components, and will repair/replace the failed items at no cost during the warranty period*.
Automatic Changer Machines made by the Victor Talking Machine Company (e.g. VE 10-51, VE 10-51, etc.) are fully warranted for a period of 6 months from time of delivery, per the terms noted above. Please note that due to the size and complexity of these changers, an "in-home" service call will usually be required to enact repairs. This may incur a significant delay due to travel schedules, but in the event a warranty repair is required, the warranty period will be extended for a period equal to the time between the date of failure and the date of completed repairs.
For non-Victor or Victrola machines (e.g. Brunswick, Capehart, etc.) our warranty covers 90 days for parts only. Please contact us for details.
As an ongoing service to our customers, Victor-Victrola will repair any non-warranted damage or failures at our actual labor and part replacement costs with no markup or overhead costs added, providing the claim is made from the original purchaser. Purchaser is responsible for all shipping costs related to non-warranty claims.
* Note: Round-trip shipping coverage applies only to phonographs delivered within the USA. Full warranty coverage is honored for international customers, but shipping costs must be paid by the customer.