Buying a Phonograph
---
Ordering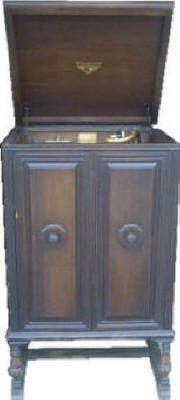 Individuals interested in ordering a phonograph from us should simply send an email stating the following information:
<![if !supportLists]> · <![endif]>Your name, address and contact phone number
<![if !supportLists]> · <![endif]>State the phonograph you are interested in purchasing
<![if !supportLists]> · <![endif]>Desired method of payment (do NOT email credit card information or bank account numbers!!)
Due to a high number of scam attempts, we will NOT respond to brief text messages or cell phone generated one-line purchase requests (e.g. "I want model XXX, please let me know"). The information requested above must be provided via email if you wish to make a purchase.
Send to: inquiries@victor-victrola.com
PAYMENTS: We currently accept cash, personal or bank checks. PAYPAL, VENMO, or money orders. Please see details below for information on international orders.
One we have received your email, we will get back to you with additional information, including our contact phone number. We will then request that the buyer call our office directly to confirm your interest before we will enter into any discussion of details or finalize a sale. We will not discuss machine details or pricing with potential buyers based only on email or text message requests, nor will we contact any third-party payers. The harsh reality of the internet: Approximately 75% of the email-based purchase requests we receive are from non-serious or fraudulent sources. We simply can't spend time following-up on each one. Asking a potential customer to initiate a brief and friendly no-pressure call seems to sift-out the sincere buyers from those who are not serious, or have an alternative agenda. We regret having to implement such a policy, but it is essential in keeping our overhead costs as low as possible.
Please note that we do not have a "showroom" or storefront facility. There is simply not an adequate market for antique phonographs to make it financially viable to maintain a public retail outlet. Our machines are stored in secure, climate-controlled facilities in the Southeast USA, and we are more than happy to invite serious buyers to personally inspect specific phonographs that may be of interest (by appointment only). However, please be advised that it is not possible to pull our entire inventory out of storage for casual inspection or browsing, as they are wrapped-and-stacked "warehouse style". Contact us for more information.
Before it is shipped, every phonograph we sell is removed from stock, fully torn-down, re-tested, cleaned and lubricated and the speed set by electronic strobe to assure that it arrives to you in the best condition possible; consequently there will typically be a 10 day waiting period to ship a phonograph after your order is placed. It will be worth the brief wait. All phonographs are delivered with 200 new steel needles (100 "loud" tone and 100 "soft" tone) and era-appropriate records.

Note to International Buyers. Due to extensive fraud attempts and multiple issues with charge-backs from shipping carriers trying to deliver machines to invalid addresses, we are no longer shipping phonographs outside the USA. No exceptions to this rule, please. If you are an international buyer, and wish to purchase a machine, perhaps you know of someone in the USA who can take delivery on your behalf and then forward the machine to you. We will no longer ship outside the USA.
Close this window to return to website content.