Buying a Phonograph
---
Ordering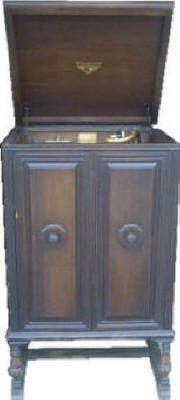 Individuals interested in ordering a phonograph from us should simply send an email stating the following information:
<![if !supportLists]> · <![endif]>Your name, address and contact phone number
<![if !supportLists]> · <![endif]>State the phonograph you are interested in purchasing
<![if !supportLists]> · <![endif]>Desired method of payment
Please note that due to a high number of scam attempts, we will NOT respond to brief text messages or cell phone generated one-line purchase requests (e.g. "I want to buy model XXX, please advise on pricing"). The information requested above must be provided if you wish to make a purchase.
Send to: inquiries@victor-victrola.com
We currently accept cash, personal or bank checks, money orders or PAYPAL. You may use a credit card through your PAYPAL account, but we do not accept direct credit card payments.
This is due to extensive fraud attempts in the recent past.
One we have received your email, we will get back to you promptly with additional information, including our contact phone number. Due to a high number of scam attempts and non-serious "lookie-loo" inquiries, we will then request that the buyer call our office directly to confirm your interest before we will enter into any discussion of details or finalize a sale. We will not quote prices or discuss details with potential buyers based only on email requests, nor will we contact any third-party payers. (The harsh reality of the internet: Approximately 70% of the email-based "buyer" requests we receive are from non-serious or fraudulent sources, and we simply can't spend time following-up on each one. Asking a potential customer to initiate a brief and friendly no-pressure call seems to sift-out the sincere buyers from those who are not serious, or have an alternative agenda). We regret having to implement such a policy, but it is essential in keeping our overhead costs as low as possible.
Before it is shipped, every phonograph we sell is removed from stock, fully torn-down, re-tested, cleaned and lubricated and the speed set by electronic strobe to assure that it arrives to you in the best condition possible; consequently there will be a one to two week waiting period to ship a phonograph after your order is placed. It will be worth the brief wait. All phonographs are delivered with the recommended polish and 200 new steel needles (100 "loud" tone and 100 "soft" tone). We are also happy to provide (upon request) a few records that are correct for the era of your Victor Victrola.
IMPORTANT: Please note that we do not pack floor model phonographs, nor do we arrange or assume responsibility for shipment. Proper packaging/crating is a specialized skill that will assure a happy customer when the phonograph is delivered, and we do not have the equipment or skills to properly pack these fragile items. Time does not permit us to gather bids from multiple carriers on your behalf. You should select the packer/carrier you wish to use (or we will suggest a few good ones nearby), and fully insure the shipment against damage or loss. We will gladly work with any carrier you select to make arrangements and assist in pickup from our shop in Southeast Michigan, or we can deliver directly to the carrier's facility (within 20 miles of our location in Southeast Michigan). However, all shipping arrangements are the responsibility of, and solely contracted by, the buyer. We CAN handle all aspects of packing and shipment of all table-top models via UPS Ground.
Shipping is very expensive! Many buyers, who intend to purchase a Victor or Victrola from us, sometime weighing upwards of 200 lbs., are shocked to realize that the floor model machines must be wrapped, crated, and mounted on a pallet before shipment, and this effort (handled by the freight packing service), along with freight carrier expenses, insurance, and residential delivery will cost a considerable amount of money depending on weight and delivery location. Small tabletop machines must be double-boxed, which then incurs a "dimensional weight" cost penalty from the carrier as well. Even the smallest tabletop models typically cost $100.00 to ship; large external-horn models can run up to $450.00 (they require two very large double-boxed crates). Floor models can run upwards of $300 to well over $1000, depending on the dimensions, destination, and weight.
We travel to the East and Midwest portions of the country to attend estate sales and auctions during the non-winter months; if you are not in a rush, and are located near one of our future destinations, we will be more than happy to arrange delivery to your door and provide complimentary setup of the Victrola in your home for a nominal fee (much less than freight shipping) when we are "on the road" buying phonographs. Contact us for details.
Close this window to return to website content.