The Victor-Victrola Page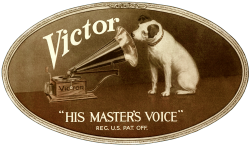 Catalog of Phonographs For Sale Listing Update: February 8, 2022
---
Please read the "How to Order" section regarding a purchase! We are happy to provide references upon request.
Additional machines will be added in the coming months. Please be patient!
Email us for additional high quality photographs. Simply click on "How to Order" (above) to reach us directly.
We will be including short YouTube videos of all machines in the future.
Click on any picture below for a detailed description.



Incredible VE-XVI in Original Vernis Martin Finish

New Listings Coming Soon!

New Listings Coming Soon!







Beautiful VV 8-35 Orthophonic with
Original Finish and Brass Soundbox




RCA RAE-68 Console with Remote Control






Beautiful 100% Original Victor V with Oak Spearpoint Horn