VV-XVI Serial Number 65117 Type E Weathered Oak Finish
Build Date: Approximately November 1912
Originality: 1- Outstanding original; tonearm and knobs correctly replated in 18K gold
Overall Condition: 2+ Exceptional overall appearance, very minor signs of wear
(See the Ratings/Condition page for our grading scales)
---
YouTube video coming soon!
The VV-XVI was Victor's "Flagship" Victrola model, large in size and impressive in design. With Victor's best 4-spring motor, gold-plated trim and hand-carved corner posts, these machines are imposing, and can dominate a good-sized room. In August 1912, the XVI model underwent a major design change (the suffix letter was changed to "E"); and the cabinet became much more ornate and detailed, and was enlarged considerably. Those XVI's with an "E" or "F" suffix had an extraordinary amount of hand-carving on the corner posts (even more than the previous versions), and these never fail to gain attention. The amount of carving was decreased in 1915 to save production costs, so these elegant versions were not available for very long. The vast majority of XVI's were produced in mahogany; Golden Oak was second. However, Weathered Oak XVI's are scarce, and this is an exceptional surviving original example. Weathered Oak was produced by fuming the oak veneer it in a bath of ammonia vapors, and then staining it. The subtle hints of browns, yellows, reds and tans can clearly be seen, and it is truly striking. The oak has fantastic figuring, and there are no dings or scratches on the cabinet or on the magnificent corner-posts. The door knobs and tonearm was replated in gold (due to contact wear), but the remaining hardware has the original gold plate, and the Victrola has an untouched original finish. There is very slight wear on the lid and a small ding on the lid's right corner (see picture), but this would not likely be noticed unless it was pointed out. This would be a great centerpiece of any collection, and will blend-in with virtually any room decor. Try to find another Weathered Oak "Type E" like this, in outstanding original condition! You can find more on the XVI by clicking here.
This would be well-suited in a large room, and would fit-in with a variety of decors. As with all our phonographs, the motor, soundbox and all mechanical components have been torn down, cleaned and correctly rebuilt (by us). It comes with our 2 year unconditional performance warranty.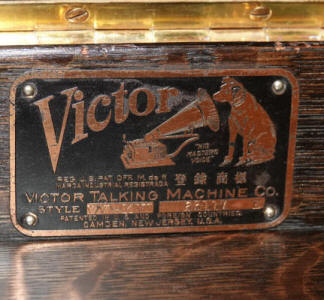 PRICE: $1450.00