The Victor-Victrola Page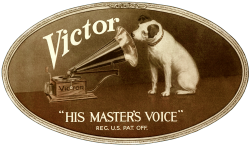 Shipping a Phonograph


---
Shipping is very expensive! Many buyers who intend to purchase a Victor or Victrola are surprised at the cost of packing and shipping. Shipping and freight costs have skyrocketed in the past few years; this is especially true after the recent pandemic. In addition, the extreme care required in packing these antiques requires specialized crating and/or large corrugated double boxes, along with a great deal of packing materials, which adds to the size and weight of the shipment. Proper packing and crating is a specialized skill; when correctly done, this will assure a happy customer when the phonograph is delivered. There is nothing worse than buying an expensive antique and having it arrive in small pieces due to poor packing.
PLEASE NOTE: We do not pack machines for shipping, but will gladly work with the carrier as noted below. We make absolutely no money on shipping-related matters.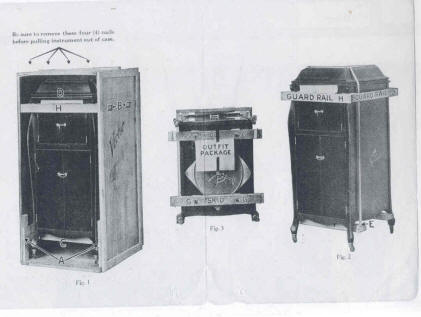 Shipping within the USA: For TABLETOP or EXTERNAL HORN MODELS (under 75 lbs. and without base cabinet):
We will gladly prepare and deliver smaller machines to either a UPS or Fed Ex (buyer's choice) packing facility near our upstate SC location. The carrier will then pack and box the items for shipment, and make all arrangements for direct delivery to your home. All machines and horns must be double-boxed, which unfortunately incurs a significant "dimensional weight" cost penalty from the carrier. Horns and cabinets are always packed separately. Full insurance is mandatory. We have an excellent track record working with UPS; their specialty packers know how to prep these items for damage-free transit.
Please be aware: even the smallest tabletop models will cost at least $150.00 to ship; very large external-horn models can run up to $700.00 or more (depending on weight and delivery location). When a machine is purchased, we will get a quote for packing/delivery from the carrier. You will then be billed (at our cost) for packing and shipping, which must be paid prior to release of the shipment. We will provide the buyer with all receipts and document regarding tracking information and cost.
Shipping within the USA: For all FLOOR MODELS:

Packing and crating floor-model machines, often weighing upwards of 200 lbs., is a very specialized skill, and can become quite expensive. Please note that we do not have the capabilities to make crates, or to logistically arrange for freight shipment of larger models. It is the buyer's responsibility to contact a carrier who will quote and handle all aspects of packing and transport. We have provided some recommendations below. We will closely work with any carrier to make arrangements and assist with them pickup from our facility near Greenville South Carolina, or we can deliver directly (at no charge) to the carrier's facility within 50 miles. We will fully prep machines for shipment by packing loose items, and shrink-wrapping the cabinets to protect the finish. However, all shipping arrangements are the responsibility of, and solely contracted by, the buyer. We will take detailed pictures prior to transfer to the carrier (for documentation or insurance claim purposes), but we are not responsible for shipping damage or for processing insurance claims. We regret having to enact this policy, but have found that acting as a "middleman", e.g. calling around to get the cheapest quotes, trying to coordinate delivery with the customer's availability schedule, dealing with insurance requirements, etc., simply consumes too many of our limited resources. Contact us prior to purchase for dimensions and weight of your machine, so that you can get an accurate quote from the carrier. We will be happy to discuss the details with you, to assure that the process goes smoothly. In most cases, the process is quite simple and can be handled in just a few minutes of your time. We will carefully assist you with the entire process.
---
We are aware that there are numerous alternatives for low-cost shipping, such as Greyhound, White Glove, and other basic services who can often deliver heavy items across the country (usually wrapped in blankets or bubble-wrap) at a very low price. However, we can't recommend such options, as the chances for damage to the finish or mechanics of a machine are quite high. You may have good luck, and the phonograph will arrive in perfect shape, or it may be a disaster. We will, of course, honor any customer's wishes in this regard, but we can't be responsible for any aspect of damage when the item arrives. Based on our experiences, we strongly recommend against any such choices when shipping a valuable phonograph. The results have been catastrophic in most cases.
We can recommend the following carriers for shipping large floor model machines:
CRATERS AND FREIGHTERS of CHARLOTTE NC: https://www.cratersandfreighterscharlotte.com/
U-SHIP SERVICES: https://www.uship.com/?r=2304&cmp=brand_-_uship_-_exact&ag=&kw=uship_e___deviceis_c_networkis_g_&gclid=CjwKCAjwyrvaBRACEiwAcyuzRH9v5VQF66Go9y3Y6lwr4F8V_bD5w7-0G_K8CtQTYhsf4kvV7UA_gxoC_esQAvD_BwE
PAKMAIL: https://www.pakmail.com/stores/pak-mail-greenville?utm_source=google&utm_medium=local&utm_campaign=localmaps&utm_content=61321
IMPORTANT NOTE: We travel to the East and Midwest portions of the country to attend estate sales and auctions during the non-winter months (April-October); if you are not in a rush, and are located near one of our future destinations, we will be more than happy to arrange delivery and provide complimentary setup of the phonograph in your home for a nominal mileage-only fee (much less than freight shipping, at an average cost between $200.00 and $400.00) when we are "on the road" buying or delivering phonographs. There may be a considerable wait, depending on your location.
Due to the COVID-19 situation, our delivery schedules are less frequent than usual.
If you prefer fast personal service based on your specific schedule requirements, we will gladly deliver and set-up any machine to any location east of the Mississippi for $1.55/mile plus reasonable per-diem charges. Contact us for details.
INTERNATIONAL SHIPMENTS (Including Canada and Mexico):
Due to extensive fraud attempts and issues with customs processing and resulting charge-backs, we are no longer shipping machines outside the USA. No exceptions to this rule, please.
If you are an international buyer, and wish to purchase a machine, perhaps you know of someone in the USA who can take delivery on your behalf and then forward the machine to you.
Close this window to return to the ORDERING page
---