The Victor-Victrola Page
What kinds of records can I play on my Victor or Victrola?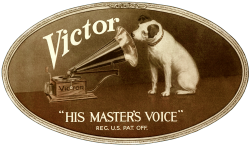 ---
ANSWER: Victors and Victrolas will play any laterally-cut 78 RPM record. This would include most flat shellac records, with the exception of some early Edison and Pathe discs, which used a vertical cutting method. Don't play the very thick Edison discs, as these are vertically cut, and the Victrola's needle will ruin them. Victor, Columbia, Regal, Paramount, Banner, Aeolian, and a host of other brands will all play correctly. The reader is warned that playing 78's made after 1935 on a Victrola will cause the record to wear very quickly, as these records were designed for the lighter tonearms that were used on later electric phonographs. Thus, it is not wise to play "big band" or Frank Sinatra 78's on any pre-1929 acoustic phonograph. And you CAN'T play vinyl LP's or 45 RPM discs!! Please read through the ABOUT RECORDS and GETTING STARTED section of this website for details.
Early Edison and Columbia machines used cylinders as a recording medium, which are obviously completely incompatible with the flat record format. The interested reader should search for Edison websites for further information on cylinder recordings.
Steel needles were designed to be used ONLY ONCE, and should be removed and discarded after every play. Using a worn needle will cause rapid record wear.
PLEASE CLOSE THIS PAGE TO RETURN TO FAQ's or RETURN TO HOME PAGE VIA BUTTON ON TOP LEFT