The Victor-Victrola Page
---
As an overview of phonograph records:
There were many types of phonograph records produced by the millions from before 1900 up until the present. These took-on many different appearances and designs, but in general:

Cylinders. Invented in 1877 by Thomas Edison and produced up until the late 1920's; the cylinder recording was the first commercial medium for recorded sound. See picture on lower right.

78 RPM Disc Records; invented by Emile Berliner in 1887, this became the dominant product for audio reproduction for many years. Note that there some disc recordings which operate at rotational speeds from 60 to 80 RPM, but 78 RPM became the 'standard' by the 1920's. There were several variants (see pictures below):

Early Rubber-Based Discs: these were typically small (7") single-sided records used on the earliest phonographs. Extremely fragile, and typically with high surface noise.

Shellac Discs: made from the late 1800's through the mid-1930's, many of these records could be played on both sides after 1904; they ranged in diameter from 7" up to 14" or larger. These are also brittle and can be easily broken, but sound quality improved significantly after 1925 when electrical recording methods were introduced.

78 RPM Plastic-Compound Discs: made from the mid-1930's up until 1958. These records had an improved sound quality and less surface noise than their shellac predecessors, and were considerably less fragile. Plastic-based "78's'" became the primary medium for millions of Big-Band and popular vocal recordings through World War 2 and well into the 1950's. Came new with paper covers, although book-style albums containing several records packaged together were also popular

33-1/3 RPM Records; developed by Columbia Records in 1948, this quickly became known the "LP" or "vinyl" disc, and was the dominant media for recordings up through the 1990's. They were made in sizes ranging from 7" "singles" up to the standard 12" LP's. These are flexible discs, often with cardboard covers explaining the artist, etc.

45 RPM records; developed by RCA in 1949, these were originally intended to be a direct competitor to the "LP", but soon became used solely for inexpensive popular recordings through the 1980's. Usually flexible and often with a large center-hole.


Most of these record systems are not compatible. If you try to play a 1965 Dean Martin "LP" on a 1922 wind-up Victrola, it won't work. The Victrola will not operate at 33-1/3 RPM, and the weight of the stylus will crush the soft LP grooves. There are even compatibility problems between different types of '78s'. The 1940 and 1950 78 RPM records can also be damaged by the weight of the tonearm of an early Victrola. So all those Bing Crosby, Tommy Dorsey and Benny Goodman 78 RPM records you may have found in the attic are far too new to be used on an early acoustic (e.g. Victrola or Columbia) phonograph. And LP's (vinyl) records will be mangled beyond hope if you try to play them on a wind-up Victrola.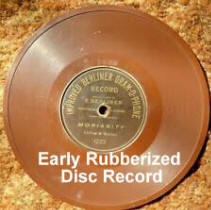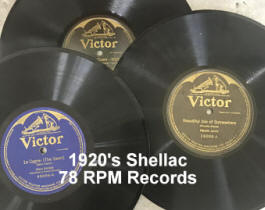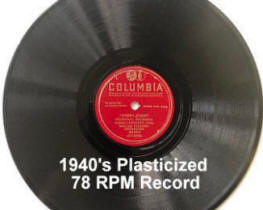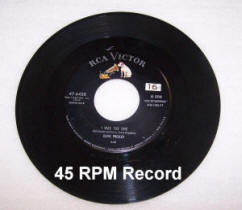 Victor Phonographs will play any laterally-cut 78 RPM record. This would include most flat records, with the exception of the early Edison and Pathe discs, which used a vertical cutting method. Don't play thick Edison discs on your Victor, as these are vertically cut, and the Victrola's needle will ruin them. Victor, Columbia, Regal, Paramount, Banner, Aeolian, and a host of other brands will all play correctly. Some brands (not Victor) offered tonearms that would play either the lateral or vertical discs by rotating the soundbox assembly.
Early records used on Victors and Victrolas have no lead out groove (the eccentric circle at the end of the record close to the label). That is a good indicator that the record is pre-1925, and will play well on an early phonograph. For the post-1925 Electrola and Orthophonic models, the eccentric lead-out groove will be used to shut-off the machine at the end of the record. However, just because the record has an eccentric groove at the end does not mean it was made in the late 1920's....they continued that same feature on 78's up through the 1950s.
The reader is warned that playing 78's made after 1935 on a Victrola will cause the record to wear very quickly, as these records were designed for the lighter tonearms that were used on later electric phonographs. Thus, it is not wise to play "big band" or Frank Sinatra 78's on any pre-1929 acoustic phonograph. 78 RPM records were produced up until 1958, so the majority that you will come across are far too new for your Victor phonograph.
We are not record experts, and have no information on the value of records other than to say that 99% of 78 RPM Victor (and other brand) records are worth no
more than $2.00 each in good condition, and many are worth less than that. That fact hurts a lot of people's feelings, but it's absolutely true. They made hundreds of millions of records in the 1900-1930 timeframe, and mountains of them are still around, so prices are generally quite low. We usually buy our records at flea markets and garage sales. They can often be found by the box or milk-crate (usually for $5 or less). Then we sift through them, pulling out the undamaged, good-sounding ones for use in demonstrating machines, or to give to our customers when they buy a phonograph from us. Thus far, we have yet to come across a "rare" one that was worth more than ten bucks. Certainly there are some valuable ones out there for those willing to do the research and can spend hours digging-around at junk stores or swap meets, but that is not our forte'. Just like when finding "Wheat Pennies"; there are still lots of them out there, but it is the very rare find that brings any money.
One may find 78's priced in the "$10.00 each" range at record shows and some swap meets. In most cases, the sellers purchased crates (or truckloads) of them from someone for less than $1.00 each, threw out the broken/worn/damaged ones, sorted them, cleaned them up, graded them, and then marketed them at a retail level. The sellers obviously have to make some money out of the deal, but don't expect to get $10.00 each for most 78's that you might have laying in the basement!
Reminder: Steel needles were designed to be used ONLY ONCE, and should be removed and discarded after every play. Using a worn needle will cause rapid record wear. New needles can be bought from the sources listed on the RESOURCES page.
An older gentleman recently drove up to a swap meet we attended in Ohio with his Ford F-150 full of 78RPM records in wood milk crates. He started asking $10 for each record, and by lunch time, his price was down to $10 per crate. When we left the show, he was selling them for $5 per crate...and still had a hard time finding takers. He was heartbroken, as he thought he really had something worthwhile. In general, old records just don't have a lot of value.