Getting Started!
---
This brief five-part section will give the beginner a quick overview of Victor Phonographs, and answer the most commonly asked questions without having to read through a ton of material. We get about 110 emails per day from this site; we are happy to respond when possible, but time does not permit us to answer every question, especially when the answers are readily found on this website. This section is intended to provide answers to the most common questions, and to give an overview of the material on this website.
This is a huge website, with hundreds of pages of detailed information on models, years of production and rarity. Please take a few moments to step through these next pages before you ask questions or get hopelessly lost.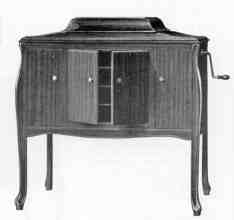 If you are totally new to the subject of Victrolas, or are unsure about "old record players", please click here for a quick overview of the "Very Basics of Antique Phonographs"
We are going to start by stepping through 5 brief sections:
Victor Products (definitions and background)

Determining Age

Determining Value

Brief background on getting needles, parts, repairs, etc.

How to Navigate around this website
So let's get started...