Getting Started!
---
This brief five-part section will give the beginner a quick overview of Victor Phonographs, and answer the most commonly asked questions without having to read through a ton of material. We get over 140 emails per day from this site; we are happy to respond when possible, but time does not permit us to respond to questions, when the answers are readily found on this website. In other words, if you haven't read the basic information on our site, we are not going to repeat what is already here and send it back to you in response to a question. We have spend years putting this site together, and it is our sincere hope that readers can easily find the information they want by navigating through these pages. If you get lost, or are unable to find what you are looking for, then please specify where you are having trouble and let us know!
This "Getting Started" section is intended to provide answers to the most common questions, and to give an overview of the material on this website.
First, it is important to state that if you are searching for something that will play:
LP records (e.g. "vinyl")

45 RPM records

1940's or 1950's 78 RPM records (e.g. Frank Sinatra, Benny Goodman, or Glenn Miller "Big Band" selections)

CD's, cassettes, or 8-track tapes
Then we regret to inform you that you have come to the wrong place!
This website is focused only on Victor brand phonographs made in the early years of the 20th Century.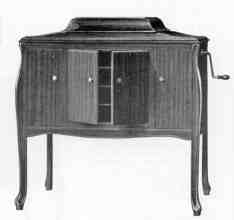 About Records: We are not "experts" on old phonograph records. That is an complex area of expertise that is best left to collectors who focus their efforts on old recordings and have the knowledge to assess rarity and value. Victors and Victrolas should ONLY be used to play pre- 1940's recordings. 78 RPM records were produced until the late 1950's, but the materials in these later-vintage discs are not made to withstand the weight of the heavy Victrola soundboxes and needles. So all those Bing Crosby, Tommy Dorsey and Benny Goodman records you may have found in the attic are far too new to be used on an early acoustic phonograph. We do know that the vast majority of 78RPM records we come across are worth about 50 cents each (and often less). Hundreds of millions of 78 RPM records were made, and tens of millions likely survive today. Yes, there are some really rare and expensive ones out there, but they are not likely to be found mixed-in with grandpa's 1940's Frank Sinatra and Glenn Miller records. Unfortunately, we can't respond to any questions regarding the rarity or value of records.
Our focus is solely on the early "Victor" and "Victrola" machines from the early years of recorded sound.
This is a huge website, with hundreds of pages of detailed information on models, years of production and rarity. Please take a few moments to step through these next pages before you ask questions or get hopelessly lost.
If you are totally new to the subject of Victrolas, or are unsure about "old record players", please click here for a quick overview of the "Very Basics of Antique Phonographs"
We are going to start by stepping through 5 brief sections:
Victor Products (definitions and background)

Determining Age

Determining Value

Brief background on getting needles, parts, repairs, etc.

How to Navigate around this website
So let's get started...