Links, Parts, Repair and Restoration Resources
---
The most common questions posed to this website (besides asking for free appraisals) relate to buying parts, repair and restoration of Victor or Victrola phonographs.
Repair usually refers to the process of getting an old Victrola to play records, e.g. fixing the motor, soundbox or other mechanical components. Restoration refers to the process of refurbishing the worn or damaged wood finish.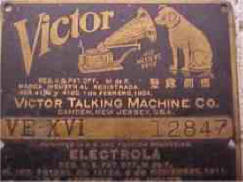 What Are All Those Knobs For?

Different Types of Needles. When to Replace Them. Etc.
How to Operate and Perform Minor Service Tasks
For Beginners Looking to Repair or Restore a Phonograph

Basic Information on Repairing a Victor Phonograph Including Motor, Soundbox, etc.

How to Restore an Old Finish Refinishing techniques. Cleaning. Etc.

Resources for buying Victor parts Needles. New Springs. Mechanical Repair Services. Etc.

Where to find more information. Information on Non-Victor Phonographs. Books and Literature.

Information on our Victor-Victrola Appraisal/Restoration Services