The Victor-Victrola Page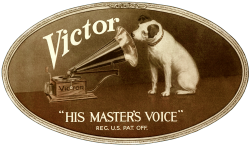 Parts, Components and Needle Suppliers
---
Victor Phonograph parts are readily available from a number of sources. The suppliers listed below carry most mechanical parts for Victor (and other brand) phonographs, and cabinet or trim pieces. Over the past few years, we have relied on these sources for parts, and we strongly recommend them without hesitation:
George Vollema
Great Lakes Antique Phonograph
9496 N. Woodbridge Ave
Bitely MI 49309
(231) 745-7175
email: victrola@triton.net
Website: www.victroladoctor.com
George is a fantastic resource for all kinds of Victrola parts, cabinets, etc...and he does first-class repairs. His inventory and expertise are second to none.
Antique Phonograph Supply Company (APSCO)
P.O.Box 123
Route 23
Davenport Center, New York 13751
(607) 278-6218
Top quality repairs and many parts too!!
Wyatts Musical Americana
P.O.Box 601
Lakeport, California 95453
(707) 263-5013
Great resource on the west coast
In Canada (service also available for USA shipments):
Brian Nix
709 Amesbury Court
Sarnia, Ontario, Canada
N7V 2P9
(519) 466-2169
Due to health issues "Dr. Bob" is transitioning the business over to his son Brian to maintain the same level of quality and trust that has been provided since 1996.