The Victor-Victrola Page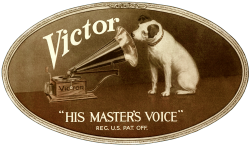 Recommended Repair Services
---
The following sources are highly recommended for repairs on Victor/Victrola motors, soundboxes and other mechanical systems:
George Vollema
Great Lakes Antique Phonograph
9496 N. Woodbridge Ave
Bitely Michigan 49309
(231) 745-7175
email: victrola@triton.net
Website: www.victroladoctor.com
George is a fantastic resource for all kinds of Victrola parts, cabinets, etc...and he does first-class repairs. His inventory and expertise are second to none.
David Dazer
Port Huron, Michigan
(810) 990-4185
David has been providing excellent repairs on Victor and Edison machines since 1975. He has a fully-equipped shop and is an active collector as well.
Brett Hurt
Greenville, South Carolina
(864) 236-1680
email: dyslexicgeniushurt@gmail.com
Brett has been restoring and repairing phonographs internationally since 1985. He has a complete machine shop and has been collecting for over 40 years.


Kristen Braun
Western Michigan Phonograph
Ravenna, Michigan
616-666-4013
Kris has been shadowing her father, George Vollema, for over 5 years, and has now set-out on her own to provide premiere repair services on motors and soundboxes. Her team does outstanding work at very reasonable prices.
Website: westmichiganphonograph.com
Email: victrolagirl@outlook.com
In Canada (service also available for USA shipments):
Brian Nix
The Gramophone Doctor
709 Amesbury Court
Sarnia, Ontario, Canada
N7V 2P9
(519) 466-2169