The Victor-Victrola Page
My Victor or Victrola is not covered on your website!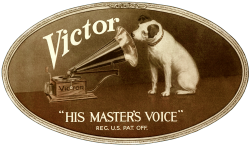 ---
ANSWER: First, make sure that you have a true Victor product, and not a phonograph from some other manufacturer (such as Edison, Columbia, etc.). There were lots of phonograph companies in the early years of the 20th Century, but we only cover Victor machines here. Also make sure that it isn't a post-1929 RCA Victor product, which will not be covered on this website. If you see the words "RCA" someplace on the machine, it isn't a Victor. If it has a complicated model ID number like "4KZH100M", than it is certainly not a Victor or Victrola phonograph. Unfortunately, in those instances, we won't be able to help you.
For RCA or other non-Victor products, check-out some of our links on the RESOURCES page for folks who might be able to help you out.
We receive over 100 emails each day from readers who are either: 1) asking us for information on an RCA or other non-Victor product, or 2) have made no effort to follow the "Getting Started" instructions to find their machine information. In those cases, we regret we can't respond to inquiries for information.
Please read through the GETTING STARTED section of this website for instructions and further details.
If you are certain that you have a true Victor product which isn't listed, please email us and we will get back to you for some further discussion. Perhaps you have discovered a new model!
PLEASE CLOSE THIS PAGE TO RETURN TO FAQ's or RETURN TO HOME PAGE VIA BUTTON ON TOP LEFT