The Victor-Victrola Page
I have an Edison (or Columbia or Pathe or Sonora, etc., etc.) Victrola. Do you have information on this machine?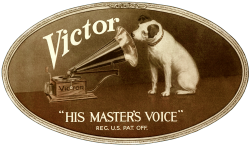 ---
ANSWER: Not all old phonographs are "Victrolas".
"Victrola" was the trademarked term for internal horn phonographs made by The Victor Talking Machine Company, and thus, there is no such thing as an "Edison Victrola", just like there is no such thing as a "Chevrolet Ford". Literally hundreds of companies made phonographs, some were quite famous, while others were obscure. Victrola was only one type of product for one brand amongst many, and is the only brand we discuss on this website. See the GETTING STARTED section for more information
We have no information on other makes of phonographs, including products made by RCA (e.g. "RCA Victor"); however the reader may find assistance via some of the links provided on the RESOURCES page of our website.
PLEASE CLOSE THIS PAGE TO RETURN TO FAQ's or RETURN TO HOME PAGE VIA BUTTON ON TOP LEFT