The Victor-Victrola Page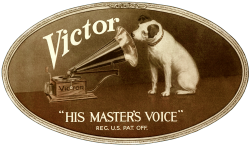 I have a Victor or Victrola Model "XYZ" in great shape. Please tell me what it is worth.
---
ANSWER: We do not provide free appraisals or "guesstimates", frankly because we receive over 140 emails daily asking for some type of 'free' help or support. We can't possibly respond to all these requests.
To get a general idea of value, the reader is asked to determine the model, serial number and finish of their machine (providing that the machine is a true Victor or Victrola, made prior to 1929). With this information, you can determine a general range of value via the "PRODUCTS" link for your model. However, the PRODUCT pages will only give a very broad categorization of valuation and rarity, and will not give you an exact dollar value. Why? Because:
The market for antique phonographs is extremely fickle, and prices can be all over the map (e.g. we would have to be constantly tweaking our online valuation guesstimates)

And more importantly, condition of the machine and type of finish, originality, as well as the original production volume will be critical in determining the ultimate valuation; discerning this information requires that a qualified appraiser see the machine in person, or at minimum, view a lot of GOOD pictures. Then some serious evaluation work must take place. A common Victrola model can command a high price if it has an uncommon finish, and/or if the condition is "mint original". High-quality refinishing work can often appear to be original to the novice, and small flaws can make a great deal of difference in the overall price. In addition, what is "excellent" to one seller may be "mediocre" to another; thus, we refrain from providing a price guide on our website.
Common Victrolas that were produced in huge quantities (VV-IV, VV-VI, VV-IX, VV-XI, VV-80, VV-210, VV-215, etc.) in average "attic-stored" condition (alligatored, crazed or worn finish, some scratches, etc.) will rarely bring more than $200.00 at phonograph auctions, and usually sell for considerably less. In absolute mint original condition and operating perfectly, these machines can be worth more than triple the "wholesale" auction value, depending on who is buying and the specific details (finish, date of manufacture) of the machine. Retailers (e.g. antique stores) must mark-up their inventory by at least 50% (and often more) to make a profit, so the phonographs you may see on display in stores are usually priced much higher than "market" valuations.
External horn Victor phonographs sell, on average, for considerably more than their Victrola counterparts. Nice Victors can range in price from $400.00 up to well over $5,000.00 at auction, depending on model and condition.
Of course, on the auction circuit, the assumption is that any machine coming across the block will require a rebuild of the motor and soundbox, along with a thorough clean-up of the cabinet and hardware in order to be saleable at a premium retail level. Unfortunately, very few antique dealers actually perform this work, so if you pay $600.00 for a VV-XI at your local store, you are certainly paying a price far above "market". Those few dealers and sellers who do rebuild the motors and spend the necessary time and money to bring a phonograph up to a high level of performance and appearance must price their machines above market levels to offset their costs. But in this case, the customer can be assured that his/her phonograph will continue to look and function correctly for many years to come.
Phonograph prices have fallen tremendously in the past 20 years, due to a decreasing number of collectors, changes in the economy, and a glut of machines coming available on Ebay, Craigslist and elsewhere. Although you may see common Victrolas in average condition with asking prices of $1,000.00 (or more) at antique dealers or on EBay, no knowledgeable collector would pay that kind of money for a common model, even in great condition.
Many sellers tend to over-grade their machines when considering condition; an "Excellent" example will typically have a glossy, piano-smooth finish free of crazing and cracking, with bright plated hardware. It will look like a newly-polished piece of fine furniture. Colors of the underlid area and outside of the cabinet will match identically. The vast majority of common "attic-found" phonographs show significant wear, scrapes and dings, heat or cold-related finish damage (crinkling or "crazing"), or other effects of having been stored for years in a damp basement or toasty attic. We estimate that less than 5% of surviving antique phonographs would be considered "excellent" by the collector community.
A machine which has been incorrectly restored will, in most cases, be saleable only as a 'parts donor', often for less than 50% of its base market value. Collectors have little use for a phonograph which has been "messed-up", even if it looks very nice to the novice. A correctly restored machine will typically sell for less than a mint unrestored example, but can still bring decent money (depending on rarity and finish). The problem is that most owners or buyers who have no experience in evaluating finishes will not usually be able to determine a correct restoration from a "shiny and gleaming" incorrect restoration.
It is our firm position that any website, individual or service that provides guesstimate "price ranges" for particular models is doing the collector and hobby community a great disservice. We have recently seen a very common oak VV-XI, which normally sells for about $100.00 to $150.00 at auction, bring over $800.00 on the auction block. It was in immaculate original condition, and had spectacular grain figuring. It was an exceptional example. Our paid appraisal evaluation process takes these kinds of features and issues into account, along with a statistical analysis of realized public auction and EBay selling (not asking) prices: our paid appraisals typically require 45 minutes to complete.
Please refer to the APPRAISALS page for information regarding paid our appraisal services.
PLEASE CLOSE THIS PAGE TO RETURN TO FAQ's or RETURN TO HOME PAGE VIA BUTTON ON TOP LEFT