Appraisal Services
---
APPRAISAL SERVICES ARE NOW AVAILABLE!
In conjunction with noted phonograph author and expert Robert Baumbach, we are now providing premium appraisal services for Victor and Victrola products. There are currently several commercial services who will provide written phonograph appraisals for a fee, and some private collectors will give a free on-line "estimate" regarding the value of a particular phonograph. Our appraisal service is not in competition with these other resources for reasons explained below.
The increasing amount of traffic to this site has resulted in an ever-growing wave of requests for appraisals, detailed assistance and technical information, which far exceeds our available time to answer. Thus, we do not respond to email requests for free appraisals. At present, we get an average of 110 emails every day, many requesting free appraisals or other detailed information. In addition, while we have attempted to provide as much specific information as possible on the site, it would be impossible to summarize the entire extent of our database information, factory catalogs, and knowledge-base into a reasonably sized web resource. Therefore, as a service to hobbyists and collectors, Mr. Baumbach and I are now offering online appraisals for Victor and Victrola products. It is our expectation that only a small fraction of site visitors will actually pay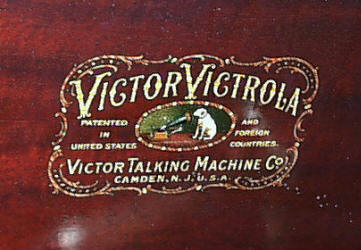 for an appraisal. However, for those who desire a comprehensive appraisal for a fee, it is our position that your appraisal should be as accurate and complete as possible.
Some commercial services rely on appraisals as a lead for bringing in restoration or repair work, and may inflate the appraised value somewhat to encourage you to purchase their restoration services (if it seems valuable, it might be worth the price of restoration). Others, mostly "freebie" appraisal sites, are private collectors searching for rare machines, and are consequently not going to be very interested in giving you an accurate appraisal on a common Victrola. If you have a rare one, they will be ready to cut you an offer right away...and you can be sure that their "appraisal" will reflect their wants. Virtually all other appraisal sites are relatively broad-based regarding general antiques, and may attempt to cover all antique music machines, pianos and other instruments, meaning they probably don't have the most comprehensive and up-to-date information on Victor products.
We will provide you with current valuation and information on the production date, rarity, and information on surviving examples with similar serial numbers (see our "Sample Appraisal" for an example. This information far exceeds what is normally provided with a "typical" online appraisal.
There is often a great deal of variance in the value of a particular model Victrola. For example, the most common Victrola model, the VV-XI, sells in the range of $100-$200 at most auctions in average "attic-stored" condition. However, I recently witnessed a beautiful original early production floor model VV-XI in Golden Polished Oak sell for well over $800 at auction. That's quite a variance above the average, and Oak isn't that rare! The price was driven by its superb condition and an especially elegant figured veneer. Truly rare finishes would command a much higher price. Condition, finish, rarity, and originality all are critical factors in determining value. Anyone who gives you an "appraisal" for a phonograph solely based on a brief written description can't provide any kind of meaningful estimate of true market value.
Our appraisal service is straightforward and unique:
Mr. Baumbach and myself have many years experience in collecting and researching information on Victor products. We are both well known in the hobby. Each appraisal is reviewed and approved by both of us prior to completion. The appraisal you get is our agreed consensus on the value of your phonograph.

We appraise Victor and Victrola products only.

We provide much additional information, including date of manufacture, features and production information.

We attend most phonograph auctions, shows, and monitor EBay sales regularly, so we have a good knowledge of current market conditions for all models

The Victor database contains information on more than 180,000 surviving Victors and Victrolas, including serial numbers and feature listings of machines currently in existence. This database grows by approximately 8,000 machines per year, providing great detail on designs and survival rates

By policy, we will never solicit to purchase a phonograph from someone who has requested an appraisal. This can result in a conflict of interest in the appraisal process.
Click here for a typical Sample Appraisal, which usually consists of 2 pages of content printed on high-quality bond.
Please note: Cost of Appraisal is $19.95, which includes return postage.
TO SUBMIT AN APPRAISAL: Send an email to us at inquiries@victor-victrola.com with the following information clearly stated:
The SUBJECT LINE of the email should read "APPRAISAL REQUEST"

Include ALL the stamped information on the metal dataplate of your Victrola. Please include the model identification, serial number, and all prefix and suffix letters. Some suffix letters are very small and hard to see, located far to the right of the serial number. If you need help, please click here.

Copy the date from the license sticker's lower left hand corner. Please DO NOT enter any other patent date or information from anywhere else but the lower left of the license sticker!! If you need help, please click here.

State if the phonograph is working or not.

Explain any obvious damage

Comment on any issues, observations, concerns or questions you may have.
Attach the following pictures:

One clear picture of the metal dataplate

An overall picture of the machine

Pictures giving an idea of the condition of the finish or of any damaged areas

One picture of the turntable and tonearm/soundbox.

If present, a picture of the license sticker (usually located on the back, inside the doors, or underneath the phonograph.
NOTE: WE CANNOT PROVIDE APPRAISALS WITHOUT HIGH QUALITY PHOTOGRAPHS.
When the email is complete, send it in, and submit payment per the instructions below:
We accept PAYPAL Payments by simply clicking on "Buy Now" below. Using this link, you can also pay by credit card.
Click below to initiate Paypal Payment
Alternatively, you can send this information directly to us via surface mail:
Cost for an appraisal is $19.95, payable by mailing a check or money order to:
Paul C. Edie
Victor-Victrola.com
2607 Woodruff Road Suite E #216
Simpsonville, SC 29681
Please allow 2-3 weeks for a return-mail response. If sending payment by surface mail, please email me at inquiries@victor-victrola.com with your name and phonograph's model and serial number at the time your appraisal payment is sent to expedite processing. Thank you!