The Victor-Victrola Page
Who can repair my Victor or Victrola?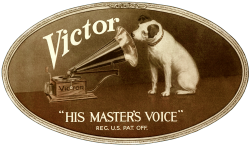 ---
ANSWER: We formerly performed phonograph repairs, but no longer have the necessary equipment and facilities to do this work. You can check-out some of the services listed on the RESOURCES page for recommended repair work on motors or other components.
PLEASE CLOSE THIS PAGE TO RETURN TO FAQ's or RETURN TO HOME PAGE VIA BUTTON ON TOP LEFT