The Victor-Victrola Page
Can I play "vinyl" records on my Victor or Victrola?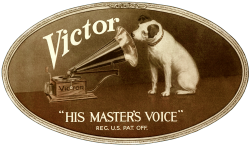 ---
Answer: No! A true (pre-1929) Victor or Victrola will play ONLY 78 RPM shellac records that were originally designed for this type of machine. This implies that most records manufactured after 1935 are going to be too new for use on your early machine. Vinyl recordings did not come unto use until 1948. Please read through the ABOUT RECORDS and GETTING STARTED section of this website for details.
PLEASE CLOSE THIS PAGE TO RETURN TO FAQ's or RETURN TO HOME PAGE VIA BUTTON ON TOP LEFT