VE 9-54 E
RARITY: ¤¤¤ VALUE ¤¤¤


---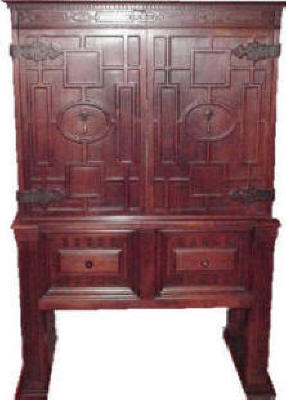 The 9-54 was a high-end radio/phonograph combination introduced late in 1928. It included Victors latest automatic record changer in combination with an RCA Radiola Model 64 receiver. Hardware was done with a wrought iron effect, and the 9-54 featured a great deal of ornate carving on the cabinet. All 9-54's were produced in walnut. Storage was provided for record albums.
The original selling price of the VE 9-54 was $1,350.00, making it one of the more expensive machines that was produced during the late 1920's. An estimated total of 2,688 VE 9-54s were produced. Due to the high cost, not many were sold. It was officially discontinued from the Victor catalog in 1929; however, due to the onset of The Depression later that year, many remained stored in factory inventory. Victor Dealers continued to offer them (usually via large "factory clearance sales") at a significant discount from the list price through the early 1930's, and most of the production total were probably sold during these clearance events. All 9-54's were manufactured between September and December of 1928.
Do you own a 9-54? Please take a moment and enter some basic information about your machine into the collector's database by clicking here. No personal information is required.