RE-154
RARITY: ¤¤¤ ¤ VALUE ¤¤


---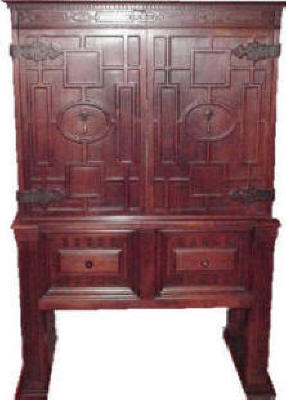 The RE-154 was launched at the time when RCA was concluding its purchase of The Victor Talking Machine Company, and most surviving examples use a "Radio-Victor" or "RCA" product decal. It used an identical cabinet to the earlier VE 9-54 E, but used a Victor Micro Synchronous radio, which was a low priced set with inferior performance as compared to previous models. In addition, the automatic record changer of the VE 9-54 was replaced with a less expensive manual single play turntable. Thus, the RE-154 was a much less impressive instrument than the 9-54 with the same beautiful cabinet, but could be sold for less than half the price, which was a wise decision given the depressed economy in late 1929. Hardware was done with a wrought iron effect, and it featured a great deal of ornate carving on the cabinet. All RE-154's were produced in walnut. Storage was provided for record albums.
The RE-154 was introduced in the fall of 1929, and production continued into 1930. However, the depression cut deeply into the sales of expensive phonographs, and the leftover stock of these machines continued to be sold by dealers well into the early 1930's. The original selling price was $475.00. An estimated total of 570 RE-154's were produced, making it one of the rarer models of this era.
Do you own an RE-154? Please take a moment and enter some basic information about your machine into the collector's database by clicking here. No personal information is required.