VV-240
RARITY: ¤¤ VALUE: ¤


---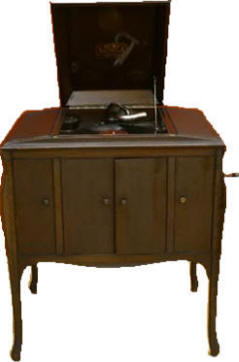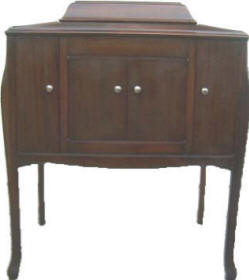 The VV-240 was the lowest priced "hump-back" console model Victrola. This design, with the "trademark" Victrola domed lid opening, never really caught-on with the public as did the flat top console machines, and relatively low production volumes were indicative of this problem. Regardless of the lower production, most low-priced console models (including the 240) are shunned by collectors today. All 240's had the semi-automatic brake and a two-spring motor. VV-240's were available in mahogany, oak or walnut finishes, although mahogany was the most common choice. The 240 went through 3 basic design iterations: the earliest 1922 versions had a relatively small horn opening and small center doors (left), which were enlarged late in the year (right). In late 1923, the cabinet grew slightly larger and a much shallower lid was used. Some factory records indicate that a few VE-240's (electric) were produced, although this information may not be accurate. The 240 was discontinued in late 1925.
The original 1922 selling price of the VV-240 was $115.00. An estimated total of 66,152 Victrola 240's were produced.
The current collector database shows the earliest existent VV-240 to be S/N 504 and the latest to be S/N 66215.
| | | |
| --- | --- | --- |
| Manufacture Date | Serial Number Range | Feature Notes |
| 1922 | 501-32000 | Small tone doors up to s/n 15600. Larger doors afterwards. |
| 1923 | 32000-45500 | Cabinet size increased late in year |
| 1924 | 45500-63000 | |
| 1925 | 63000-66653 | |
Do you own a Victrola VV-240? Please take a moment and enter some basic information about your machine into the collector's database by clicking here. No personal information is required.