VV-300 / VE-300
RARITY: ¤¤ VALUE: ¤¤


---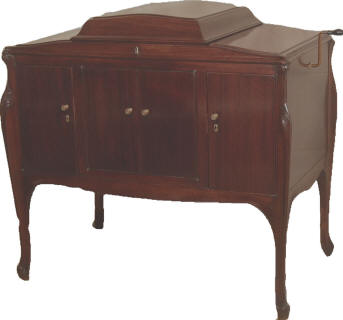 The VV-300 was Victor's first horizontal console model, introduced in late 1921. While this Victrola had a totally new look from all previous machines, it retained the domed lid design which had been used on virtually all lidded Victrolas since they were first introduced. Initially, the 300 sold quite well, but its sales quickly declined when the public began demanding the more practical flat-top console models. All VV-300's had the semi-automatic brake, gold plated hardware and a four-spring motor. Cabinets on the earliest 300's (made in 1921) were about 2 inches shorter (less height) than subsequent production versions. Otherwise, all VV-300's had identical design features. The VV-300 was available in oak mahogany or walnut. Production of the 300 was discontinued in 1923; however, the model remained in the Victor catalog until 1925, indicating a large remaining backstock of unsold machines.
The original 1921 selling price of the VV-300 was $250.00. An estimated total of 28,000 spring-wound Victrola 300's were produced, although factory production data shows a slightly lesser figure.
Electric versions of the 300 were available for $65.00 extra. A total of 2,500 electric VE-300's were produced. Again, factory production data indicates that fewer were produced.
The current collector database shows the earliest existent VV-300 to be S/N 667 and the latest to be S/N 28200.
The earliest VE-300 is S/N 509 and the latest is S/N 2561
| | | |
| --- | --- | --- |
| Manufacture Date | Serial Number Range | Feature Notes |
| 1921 | 501-12500 | |
| 1922 | 12500-24600 | Production versions made prior to s/n 15675 are of the "short" cabinet design. |
| 1923 | 24600-28500 (approx) | |
| VE-300 Electric: | | |
| 1921 | 501-825 | Earliest production versions have shorter cabinet |
| 1922 | 825-2600 (approx) | Small blocks of serial numbers were skipped during production |
Do you own a Victrola VV-300? Please take a moment and enter some basic information about your machine into the collector's database by clicking here. No personal information is required.