VV-210 / VE-210 / VV-S-210
RARITY: ¤ VALUE: ¤


---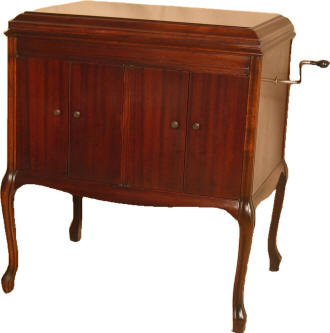 The VV-210 was the low-priced, flat top console that helped to revive stagnant Victrola sales in the early 1920's. While this and many other console-type models are shunned by collectors today (mostly due to the large volumes produced, and the simple, undecorated design), it was an extremely popular model in many middle class homes of the time. All 210's had the semi-automatic brake and a two-spring motor. Early 210's were produced only in mahogany, and most examples had a dark reddish-brown stain applied. Oak and Walnut became available in 1925. In addition, the removable slatted record storage rack, which was standard equipment in earlier years, was eliminated in the 1925 models. The 210 was discontinued in late 1925.
The original 1922 selling price of the VV-210 was $100.00. An estimated total of 197,000 Victrola 210's were produced based on factory production records. However, a few examples with serial numbers exceeding 200,000 have been noted, most with suffix letters ("E" or "F") indicating that these were intended for export. These may have not been counted in the original factory reports.
Electric versions of the 210 were made available late in the production run. A total of only 199 electric VE-210's were produced during 1924 and 1925, ranging from S/N 501 to 700, and only one survivor has been reported to date. A few "radio-adaptable" model VV-S-210 models were also produced near the end of the model run with space for mounting a radio on the left hand side. However, many VV-210's were modified by dealers for this purpose.
The current collector database shows the earliest existent VV-210 to be S/N 531 and the latest to be S/N 197558. See note above for examples with S/N's greater than 200000
| | | |
| --- | --- | --- |
| Manufacture Date | Serial Number Range | Feature Notes |
| 1922 | 501-40500 | |
| 1923 | 40500-96000 | |
| 1924 | 96000-173500 | |
| 1925 | 173500-212500 | Slatted record storage rack removed. Suffix letters have been found on some late production models. |
Do you own a Victrola VV-210? Please take a moment and enter some basic information about your machine into the collector's database by clicking here. No personal information is required.