VE 10-35 X
RARITY: ¤¤¤ VALUE: ¤¤¤


---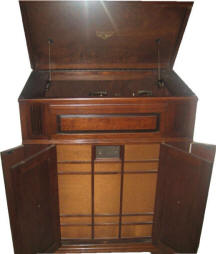 The VE 10-35 was an automatic record changer Orthophonic (acoustic) console, featuring an ultra-modern cabinet design in premium walnut. The exponential horn was made of stamped metal, rather than the traditional wood. This machine used the second version of the Victor Automatic Changer, which was initially prone to mechanical problems and arguably much harder on records, as they were literally "flung" off the turntable and into a storage area at the end of the tune. This new changer was intended as a lower-cost and more compact update to the first generation version, but did not meet with much success. It was also used on the VE 10-69 and 9-56 models, as well as a few others. The VE 10-35 was a phonograph-only model, without radio. It was manufactured only during 1928, but due to slow sales, it remained in the Victor catalog through 1929. Sales of this model (still in dealer stock) continued well into the 1930's.
The original selling price of the VE 10-35 was $365.00. Production records show that just over 3,000 VE 10-35's were produced; however, based on surviving examples, the number is likely closer to 10,000.
The current collector database shows the earliest existent VE 10-35 to be S/N 1188 and the latest to be S/N 11166.
.
Do you own a Victrola VE 10-35? Please take a moment and enter some basic information about your machine into the collector's database by clicking here. No personal information is required.