The Victor-Victrola Page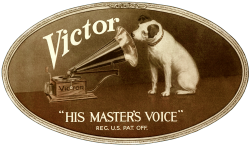 QUESTION: You used to restore and sell phonographs online. What happened?
---
ANSWER: Victor-Victrola has permanently ceased performing machine restoration.
Maintaining a comprehensive restoration facility and skilled refinishing team proved to be financially impractical. Given that the antique phonograph hobby has been on the slow decline in recent years, we were unable to sustain the operation. In addition, increasingly stringent regulations in the use of high-VOC solvents and finishing materials drove-up our operating costs by nearly 30%. Our last restoration was delivered in December, 2015. We have since closed our facility, and have permanently shut-down all restoration operations.
We occassionally offer a selection of exceptional Victors and Victrolas and other phonographs for sale. Information can be found here.
PLEASE CLOSE THIS PAGE TO RETURN TO FAQ's or RETURN TO HOME PAGE VIA BUTTON ON TOP LEFT