The Victor-Victrola Page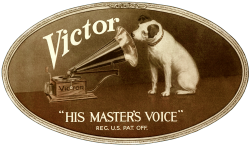 Why don't you respond to my email inquiries?
---
ANSWER: With over 140 emails arriving daily, we are only able to respond to 10-12 each day. Time simply doesn't permit answering each question, particularly true when most of the questions being asked are already addressed on this website. Please take the time to do some "digging" before sending us emails. Additionally, as much as we would like to assist, we can't possibly write-out individual repair or restoration instructions for everyone, or become "pen pals" with our readers. The volume of incoming questions far exceeds our ability to respond. And during those periods when business becomes particularly overwhelming, or when we are out on the road, we may not be able to respond to ANY email questions over the course of many days or weeks.
PLEASE CLOSE THIS PAGE TO RETURN TO FAQ's or RETURN TO HOME PAGE VIA BUTTON ON TOP LEFT