The Victor-Victrola Page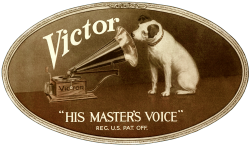 Where should I sell my phonograph?
---
ANSWER: If you are trying to sell a Victor or Victrola, there are several alternatives that can work well. EBay, Craigslist, and other internet auction services have a lot of visibility with collectors, and can draw reasonable prices for the seller. It is best to add pictures and detailed descriptions of the machine in question, including model and serial number.
Alternatively, local or national auctions are a good place to sell. There are auction services that specialize in antique phonographs (for example, Stanton's Auctioneers in Vermontville, Michigan) which hold regular auctions that draw good attendance. Several phonograph shows are held regularly around the country, and these can be a good place to buy or sell machines. A list of shows and auctions are presented here.
Rarely does one find the corner antique store to be a good source to sell a phonograph, as commissions can be burdensome.
Just be aware that prices are very soft for antique phonographs now, and unless you have a rare or highly desirable machine, they are not bringing much money in this market.
We do not sell phonographs on commission or on behalf of others, and we are not currently purchasing machines, unless they are exceptionally unusual.
PLEASE CLOSE THIS PAGE TO RETURN TO FAQ's or RETURN TO HOME PAGE VIA BUTTON ON TOP LEFT