The Victor-Victrola Page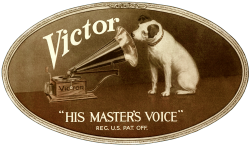 Where can I buy new needles?
---
ANSWER: There are many sellers of new steel phonograph needles. They may be found on EBay or via other online stores. Prices vary greatly, but some sellers can provide them at quite low prices if you are willing to buy in quantity. Check our RESOURCES page for a few recommended sellers.
Please note that we do not sell needles or parts.
PLEASE CLOSE THIS PAGE TO RETURN TO FAQ's or RETURN TO HOME PAGE VIA BUTTON ON TOP LEFT