The Victor-Victrola Page
When was my machine made?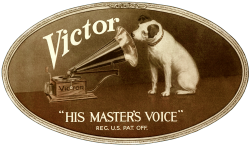 ---
ANSWER: Please read through the GETTING STARTED section of this website for details on manufacture date. Using the PRODUCTS link will assist you in determining the date of your machine, providing you have a true 1901-1929 Victor product (e.g. not an "RCA" model or other brand of phonograph). Most internal-horn Victrolas date from 1912-1928, since this was the time period when the highest volumes of machines were produced. Victors (external horn models) were made from 1901 up through the early 1920's, but most were sold between 1904 and 1910.
PLEASE CLOSE THIS PAGE TO RETURN TO FAQ's or RETURN TO HOME PAGE VIA BUTTON ON TOP LEFT