The Victor-Victrola Page
What is the difference between a "Victor" and a "Victrola"?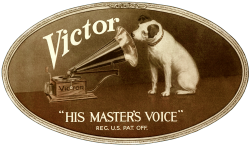 ---
ANSWER: A "Victor" is a phonograph with the horn mounted externally (below right). A "Victrola" has an internal horn, often with doors in front that open and close to control the volume (below left). Both are products of the Victor Talking Machine Company.
Victors were first produced in 1901, and were made through the early 20's. Victrolas were made from 1906 up through 1929, when RCA bought the company (and thus became "RCA Victor").
There were hundreds of competing phonograph companies who made similar-looking machines. This website only covers products made by the Victor Talking Machine Company. See the GETTING STARTED section for more information.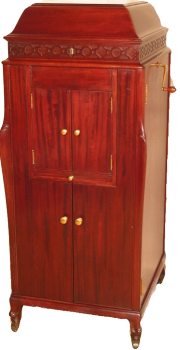 PLEASE CLOSE THIS PAGE TO RETURN TO FAQ's or RETURN TO HOME PAGE VIA BUTTON ON TOP LEFT