The Victor-Victrola Page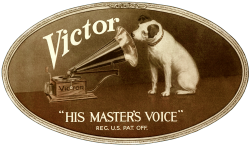 Limited Warranty Terms for:


- Electrically Powered ("VE" or "Electrola") Victor-Built Machines

- Automatic Changer Machines

- Non-Victor Products (including Capehart, Brunswick, Sonora, etc.)


---
Victor-Victrola warrants any electrically-powered machine (VE /Electrola), any make of 'Automatic-Changer' machine, or any non-Victor product (such as Capehart, Brunswick, Sonora, etc.) for the replacement of parts only for a period of 6 months after the date of purchase. This includes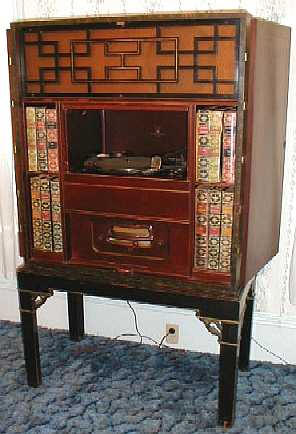 coverage for all components related to sound reproduction, turntable operation, mechanical actuation/movement, or automatic cycling, such as:
Soundbox or cartridge and all related components

Tonearm and tonearm support bracket systems

All motor, speed governor, and power distribution

Speed control and indicator systems

Turntable and spindle systems

Changer mechanisms

Radio or power amplifier components

Speakers and drivers
This warranty does not include coverage for any form of destructive damage due to fire, flood, wind, building collapse, theft or other external factors that constitute "beyond reasonable care".

User assumes all risk in the event of electrical shock, fire or smoke damage. We are not responsible for any personal injury due to disassembly or misuse of the phonograph.

Needles are not warranted, nor are we responsible for wear or damage to records.




No warranty coverage is made for cosmetic damage (scratches, gouges, abrasions, cracking, splitting, dents, chips, water damage, etc.) to cabinets or other appearance components, including:

<![if !supportLists]> o <![endif]>Cabinets, legs, horns, doors or lids

<![if !supportLists]> o <![endif]>Cranks or crank knobs (unless damage prevents proper operation of phonograph)

<![if !supportLists]> o <![endif]>Trim or carved pieces or horn support systems

<![if !supportLists]> o <![endif]>Hinges, knobs, lid support brackets

<![if !supportLists]> o <![endif]>Locks, bezels or other ancillary hardware

<![if !supportLists]> o <![endif]>Turntable felt or other fabric items (grille cloth, pads, etc.)
Warranty claims can be made directly to Victor-Victrola via the information form included with each phonograph.
Why is our coverage limited for these machines?
We make every effort to assure that all electronic components and mechanical systems are safe and operating reliably. But unlike spring-wound machines (for which any failed component can easily be removed by the owner and shipped back to us for repair) the size and complexity of many of the components and sub-systems in electrical machines and automatic changers usually requires an 'on-site' service visit by an experienced repair professional. For example, if an automatic changer system ceases operating on a large console, it is obviously not possible to remove it and return to us (in many cases the changer system alone can weigh upwards of 60 lbs), and depending on where the machine is located, it may be many months before we can visit the customer location for servicing. In addition, considerable heat is generated by early motors, resistor banks, electron-tubes, etc., which can also lead to premature failure of certain components, depending on how often or under what conditions the machine is operated. These factors are beyond our control. While there are many competent repair services for older radio/phonograph systems located throughout the country, we can't be responsible for third-party labor costs. Therefore, we can only cover the cost of necessary replacement parts for a 6 month period.
We will be more than happy to provide on-site service visits when possible, but this may incur a significant delay due to travel schedules and proximity to our location. We will, of course, assist the customer in locating a competent repair service in their area if needed, or provide an in-person service visit when our schedule permits.
We strongly encourage that AC power be removed (unplugged) from all electrically-powered machines when not is use, and that the power remain off if not attended. While we make every effort to assure that our electrical restoration work is safe and reliable, we maintain no responsibility for damage caused by fire, smoke or personal injury.
Close this window to return to listings
---