The Victor-Victrola Page
My Victor or Victrola has a "1904" or "1906" date on the plate. Is it really this old? What about those dates on the metal plate and sticker?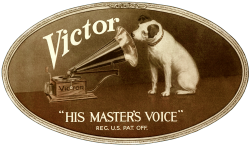 ---
ANSWER: Your Victor Talking Machine phonograph could have been made in 1904 or 1906, but it is not likely. Victor patented many component designs in their phonographs during those two years, and these patent and trademark or copyright dates can be found on the dataplate of virtually all Victor and Victrolas up through the 1920's. Many external-horn Victors were produced before 1906, but they continued in production up through the early 1920's. Only the very earliest internal-horn Victrola phonographs were manufactured in 1906, and those are few and far between. The 1904 and 1906 copyright/patent/trademark dates will appear on virtually all Victors and Victrolas, so don't rely on those dates as an indicator of the build date of your machine.
The dates on the paper license sticker were also put there to protect patents and trademarks. They are NOT the date your machine was made! This includes the date at the bottom of the sticker, which indicates the date that the retail selling "base" price was established for that model, not the date it came off the assembly line.
Using the PRODUCTS link will assist you in determining the date of your machine via the model and serial number information (providing you have a true Victor product and not an RCA-manufactured machine). Most Victrolas date from 1915-1928, since this was the time period when the highest volumes of machines were produced. Victors (external horn models) were made from 1901 and up until through the early '20's. Please read through the GETTING STARTED section of this website for details
PLEASE CLOSE THIS PAGE TO RETURN TO FAQ's or RETURN TO HOME PAGE VIA BUTTON ON TOP LEFT