The Victor-Victrola Page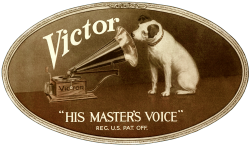 I want to purchase a nice Victor or Victrola
---
ANSWER: If you wish to buy a Victor or Victrola, there are several sources that can considered. Ebay, Craigslist and other online sales outlets have a lot of visibility with collectors, and there are some good deals to be had. Always use extreme care that the phonograph you are buying is "as described," and we strongly suggest the use of PAYPAL to protect your purchase. Even experienced collectors (including us) have been burned more than once by machines that have been blatantly misrepresented via online listings. And many times, the sellers don't even realize that they are misrepresenting the machine.
Alternatively, local or national auctions are a great place to buy. There are auction services that specialize in antique phonographs (for example, Stanton's Auctioneers in Vermontville, Michigan) which hold regular auctions that draw good attendance. A number of nationwide swap-meets are held throughout the calendar year, and they can be a great place to purchase a nice machine. A list of shows and auctions are presented here.
Rarely does one find the corner antique store to be a good source to buy a phonograph, as prices tend to be prohibitively high. Regardless of where you buy it, be very careful that you know what you are getting. Unfortunately, the antique business is loaded with individuals who are somewhat less than knowledgeable about phonographs, and what is sold as a rare original may be nothing more than a common attic phonograph.
We typically offer a selection of exceptional Victors and Victrolas for sale, all guaranteed to be authentic with fully rebuilt mechanics. However, we have temporarily suspended sales due to the COVID-19 outbreak, and do not anticipate being back in operation until mid-2021.
PLEASE CLOSE THIS PAGE TO RETURN TO FAQ's or RETURN TO HOME PAGE VIA BUTTON ON TOP LEFT