The Victor-Victrola Page
I have a lot of old 78 RPM records, what are they worth?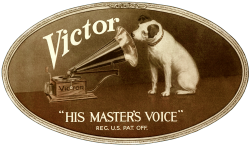 ---
ANSWER: We are not active in the record collecting hobby, and thus do not keep up with pricing or rarity. There were many hundreds of millions of 78 RPM records produced during the early 20th Century, and it is quite unusual to find ANY 78 record that sells for more than a couple of dollars in the wholesale market. In fact, in most cases, they are bought and sold at auctions and yard sales by the box load, at very low prices. We typically buy them for about $10 per crate at swap-meets. This does not imply that rare ones do not exist; just like finding Indian Head Pennies; there are lots of them out there, but it is the very rare find that brings any money.
One may find 78's priced in the "$10.00 each" range (or more) at record shows and some swap meets. In most cases, the sellers purchased crates (or truckloads) of them from someone for less than $1.00 each, threw out the broken/worn/damaged ones, sorted them, cleaned them up, graded them, and then marketed them at a retail level. The sellers obviously have to make some money out of the deal, but don't expect to get $10.00 each for the 78's that you might have laying in the basement!
Records which MAY have some serious value would include very early (pre-1905) records, picture discs, records in brand-new (un-played) condition, or an occasional rare release. There are a number of good websites which cover the value and rarity of 78 RPM records. For more information, please see our section on RECORDS.
PLEASE CLOSE THIS PAGE TO RETURN TO FAQ's or RETURN TO HOME PAGE VIA BUTTON ON TOP LEFT