VV 9-1 / VE 9-1 / Florenza / Florenza X
RARITY: ¤¤¤ VALUE ¤


---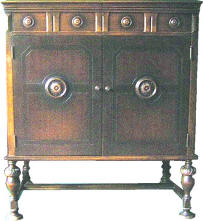 The Florenza (also called the 9-1) was one of the first true "entertainment systems", pairing a Victor Orthophonic (acoustic) phonograph with an RCA Radiola 25. The radio was powered by a group of batteries that were mounted inside the cabinet. This instrument could be ordered with either a spring powered phonograph (Florenza) or with an electric motor option (Florenza X). The Florenza was introduced in early 1926, and production was discontinued later that year when more advanced (and lower cost) radio/phono systems became available on the market. The cabinet used a figured Walnut veneer with two shades of stain.
The Florenza initially sold for $550.00 when first introduced. The Florenza X sold for $605.00. As the cost for electronic components (used in the radio) decreased, the price of the Florenza model dropped by $75.00 late in 1926.
Approximately 4,000 Florenza phonographs were produced, making it a relatively rare model. Shipping records show that only 20 Florenza X (electrically powered turntable motor) models were made; however serial numbers of surviving examples indicate a higher production volume for the Florenza X model than is indicated on the factory production data.
Do you own a Florenza? Please take a moment and enter some basic information about your machine into the collector's database by clicking here. No personal information is required.