The Victor-Victrola Page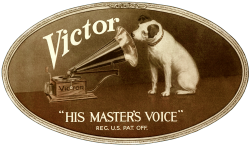 Can you provide me with instructions on how to fix my phonograph?
ANSWER: There were scores of different motor designs and configurations used by Victor over the years. We regret that we are unable to answer "how do I fix it" questions, or provide individual repair/servicing instructions for each type of motor. This is due to the fact that we receive over 100 inquiries daily on this topic, and that our operations are related to historical research and not mechanical repairs. In other words, we are not experts on how motors should be safely taken-apart, serviced, and re-assembled. Please refer to our RESOURCES section for books on repair and services who can competently fix phonographs.
PLEASE CLOSE THIS PAGE TO RETURN TO FAQ's or RETURN TO HOME PAGE VIA BUTTON ON TOP LEFT