Sample Appraisal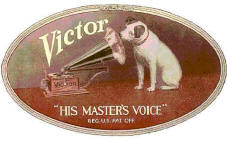 Victrola Model VV-XXIV* Serial Number 12345
* Note: This is not a real Victrola model. Model. picture and description are used only as an example for this sample form. The format and wording has been condensed; actual appraisals contain many more descriptive details.
---
Appraisal Date: 24 September, 2009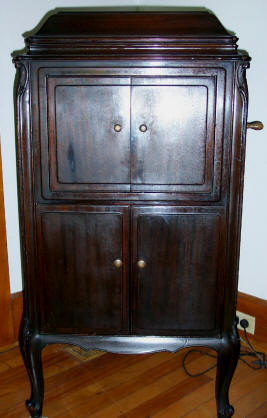 Owner: Mr. Fred Smith, Smallville, Kentucky
Type of Phonograph: Victor VV-XXIV Floor Model with red mahogany finish. Nickel plated hardware.
Description: The VV-XXIV was a premium floor model, produced to boost Victrola sales during the 1914 Christmas season. Introduced in the late summer of 1913 it sold moderately well. It had an unusual cabinet design, with a lower "compressed" appearance. Gold hardware and Exhibition Soundbox were standard equipment. The XXIV was discontinued with the introduction of the VV-XXVIII, in late 1915. All XXIV's have identical design features.
Operational Condition: Functional. Springs require cleaning and re-greasing. Motor requires lubrication.
Cosmetic Condition: Fair. Finish is alligatored, scratches on lid, veneer chips on corners some rust noted on hardware.
Selling Dealer: Unknown
Approximate Production Date: March 1915
Retail Pricing License Date: February 15, 1921
Original Selling Price: $200.00
Dates of Production: June, 1913 through July 1918
Total Production: 152,200
Rarity: XXIV represents 5.6% of total Victor production. Rarity is ranked as "common"
Current Market Value (in current condition): Low $150.00 Median: $250.00 High: $300.00
Note: Market value is determined based on documented auction and private sales of identical models in similar condition from 2002-2012. Low represents the 20th percentile of selling price, Median represents the 50th percentile, and High represents the 80th percentile of selling price.
Victrola XXIV phonographs are still commonly found at antique auctions and Ebay. Due to their very high volume of production, sale prices rarely exceed $400 unless in exceptional original condition or with a rare finish. This example was produced late in the production cycle, at a time when Victrola retail sales were sustained at a frenzied pace. It is complete and correct, but value would be improved if the original albums were present, and if the damaged tonearm was replaced. Ebay sale prices for all VV-XXIV models in similar condition averaged $242.00 during CY 2010-2012.
Database Summary: There are currently 525 VV-XXIV machines logged in the survival database:
s/n 12345 appears between:

s/n 12150 (sold on Ebay, June 4, 2005 for $170.00)

s/n 12637 (in a private collection, originally sold 10/5/1915 by J.R. Smith Music, New York, NY)
DISCLAIMER
This online appraisal report is an appraisal expert's opinion of value based on market comparable research of the item description and images supplied by our customer. No further guarantee of authenticity, genuineness, attribution or authorship is represented.
Current Fair Market Value is the price agreed on between a willing buyer and seller, neither being required to act, and both having reasonable knowledge of the facts.
Appraisal completed by:
Paul C. Edie
Robert W. Baumbach
www.victor-victrola.com