VE 9-40 E
RARITY: ¤¤¤ VALUE ¤¤


---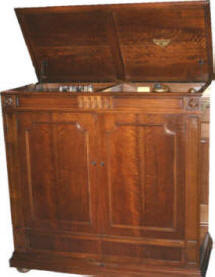 The 9-40 was a high-end radio/phonograph combination introduced late in 1926. It was essentially identical to the Borgia II model with improved electronics. The 9-40 included an acoustical phonograph with components identical to the top-of-the-line Credenza combined with an RCA Radiola Model 28 radio. In addition, the user could choose to play back records using an electromagnetic soundbox to provide electrical reproduction of records. Early production versions used two large front doors (as shown on left), whereas later versions used 4 doors, which were more convenient to open and close. A manually operated valve controlled the flow of sound from either the radio driver or the phonograph soundbox into the large horn, which is located on the right side of the machine. All 9-40's were produced in walnut.
The original 1926 selling price of the VE 9-40 was $1,000.00, making it the most expensive machine in the Victor catalog when it was introduced. An estimated total of 5,140 VE 9-40's were produced until it was discontinued in late 1927.
| | | |
| --- | --- | --- |
| Manufacture Date | Serial Number Range | Feature Notes |
| 1926 | 501-3700 | Earliest versions use 2 doors in front |
| 1927 | 3701-5630 | |
Do you own a 9-40? Please take a moment and enter some basic information about your machine into the collector's database by clicking here. No personal information is required.