VE 8-60E
RARITY: ¤¤¤ VALUE ¤¤¤


---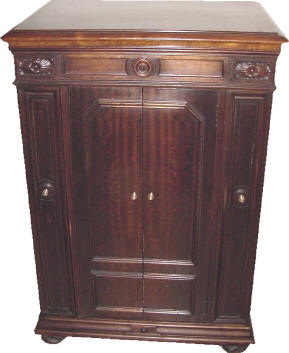 The VE 8-60 was an intriguing phonograph introduced in the fall of 1926. It had a cabinet identical to the popular Credenza model, but with an unusual twist; it offered the user the ability to select either acoustical or electronic reproduction of music. This model was introduced at a time when conventional acoustic reproduction was losing popularity to the more modern electronic (tube amplified) methods, primarily due to the rapidly falling cost of electronic components. Although electronic amplification could provide greater volume with more user control, it also could add hum and noise and other unwanted artifacts to the music. The 8-60 allowed a direct comparison to be made between the two types of reproduction, and it was possible to select the most pleasing method for a particular recording or style of music.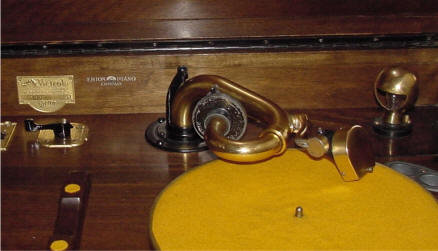 Achieving both forms of reproduction required that the tonearm be equipped with 2 soundboxes; one acoustical and one electronic (picture below right). A standard full sized Orthophonic folded horn was used (identical to the Credenza). A mechanical control valve allowed the user to switch the horn's input between the acoustic soundbox and an electrical driver, which was powered by the amplifier located at the bottom of the cabinet.
The original 1926 selling price of the 8-60 was a whopping $650.00. An estimated total of nearly 3,500 VE 8-60's were made until the model was discontinued in early 1928.
Do you own a Victrola 8-60? Please take a moment and enter some basic information about your machine into the collector's database by clicking here. No personal information is required.