VV 8-8
RARITY: ¤¤¤¤ VALUE ¤¤¤


---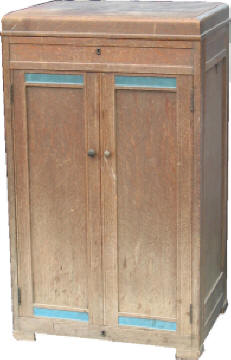 The VV 8-8 was the second-generation "schoolhouse" Orthophonic Victrola, introduced in 1928. It was intended for use by schools and churches, and had a plain oak cabinet (with "hidden" wheels in the rear for easy transport) and large Orthophonic horn. This model replaced the earlier VV 8-7, with a fancier cabinet, with blue painted bands, similar to that of the deluxe home-version VV 8-9. The wheels (in the rear) were recessed as to be hardly visible, and a handle bar across the back made moving the machine very easy. Standard features included an automatic brake and nickel plated hardware. All 8-8's are identical in design and features. It was manufactured up through at least 1930, after RCA had purchased Victor.
The original 1928 selling price of the 8-7 was $195.00. Schools automatically got a 25% discount from the list price. An estimated total of 1,200 Victrola 8-8's were produced, making it one of the rarest Orthophonic machines made.
No evidence exists that an electric version of the 8-8 was manufactured.
| | | |
| --- | --- | --- |
| Manufacture Date | Serial Number Range | Feature Notes |
| 1928 | 501-1400 | |
| 1929-?? | 1401-1700 | |
Do you own a Victrola 8-8? Please take a moment and enter some basic information about your machine into the collector's database by clicking here. No personal information is required.