VV-350 / VE-350
RARITY: ¤¤¤ VALUE: ¤¤¤


---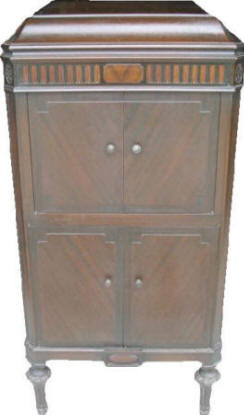 The VV-350 was one of three short-lived "designer" upright Victrolas, that were introduced in late 1924 and manufactured for less than a year. The 350 was almost identical to the design of the VV-400, but in an upright (not console) cabinet configuration. It used the same "V" shaped veneer patterns on the front doors, along with rectangular design themes as was featured on the VV-400. Like the VV-360 and VV-370 (introduced at the same time), the VV-350 was intended to provide an upscale choice for affluent buyers; however, very few were sold and the model was discontinued early in 1925. All VV-350's have identical features, including gold plated hardware, an air-support lid, and a 4-spring motor. The 350 was only available in mahogany.
The original 1924 selling price of the 350 was $235.00. An estimated total of 880 Victrola 350's were produced, all in 1924. Serial numbers range from 501 through 1381. Approximately 159 VE-350's (electric) were made, with serial numbers ranging from 501 through 660.
Do you own a Victrola VV-350? Please take a moment and enter some basic information about your machine into the collector's database by clicking here. No personal information is required.