VV-330 / VE-330
RARITY: ¤¤¤ VALUE: ¤¤


---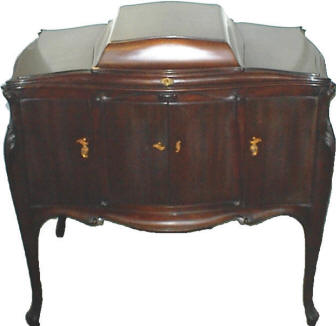 The VV-330 was the premium "hump-back" console model Victrola, catering to wealthy customers. This design, with the unique humped lid opening, never really caught-on with the public as did the more modern flat top machines. While most console models are shunned by collectors today, the VV-330 is rare and elegant enough to draw considerable interest by the collector community. The 330 had bowed front and side panels, and deluxe gold hardware. All 330's had the semi-automatic brake and a four-spring motor. VV-330's were available in mahogany, oak or walnut finishes, although mahogany was the most common choice. A few 330's were also produced with hand-painted scenes and special finishes. Factory production of the 330 had ceased in 1923; however unsold stock of this model caused it to remain as a catalog item until 1925. Large blocks of serial numbers were likely skipped during production of this model.
The original 1922 selling price of the VV-330 was $350.00. An estimated total of 3,620 Victrola 330's were produced
Electric versions of the 330 were available for $40.00 extra. A total of 478 electric VE-330's were produced.
The current collector database shows the earliest existent VV-330 to be S/N 502 and the latest to be S/N 4139.
The earliest existent VE-330 is S/N 549 and the latest is S/N 908
| | | |
| --- | --- | --- |
| Manufacture Date | Serial Number Range | Feature Notes |
| 1922 | 501-3850 | |
| 1923 | 3850-4121 | |
| VE-330 Electric: | | |
| 1922 | 501-963 | |
| 1923 | 963-979 | |
Do you own a Victrola VV-330? Please take a moment and enter some basic information about your machine into the collector's database by clicking here. No personal information is required.