VV-280
RARITY: ¤¤ VALUE: ¤¤


---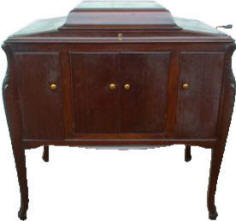 The VV-280 was an "upscale" humpback console Victrola. This model was manufactured for only 1 year (1922), although it remained in the Victor catalog until August of 1924. This indicates that the VV-280 was not a very strong seller, since the back stock of this model remained warehoused for 2 years after production ceased. All VV-280s have identical features, including gold plated hardware, hand carving on the side posts, and a 2-spring motor. The 280 was available in mahogany or walnut, although mahogany remained the most common choice. Some records indicate that 7 VE (electric) 280's were produced, although this has not been verified.
The original 1922 selling price of the 280 was $200.00. An estimated total of 12,730 Victrola 280's were produced.
The current collector database shows the earliest existent VV-280 to be S/N 564 and the latest to be S/N 13205.
| | | |
| --- | --- | --- |
| Manufacture Date | Serial Number Range | Feature Notes |
| 1922 | 501-13230 | |
Do you own a Victrola VV-280? Please take a moment and enter some basic information about your machine into the collector's database by clicking here. No personal information is required.