VV-110
RARITY: ¤¤ VALUE: ¤


---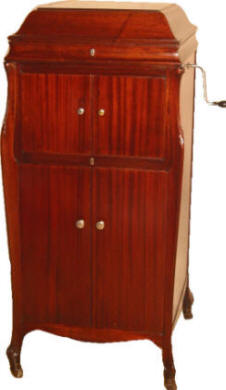 The VV-110 was basically identical to the discontinued VV-XIV; the name change was simply a marketing effort to give the old Victor lineup a more modern image. The differences between the 110 and XIV were minimal (needle cup holder, etc.), and for all intents and purposes they were the same machine. This model was manufactured for only 2 years (1921-22), although it remained in the Victor catalog until 1924. Like the situation with the VV-90, this indicates that the VV-110 was not a very strong seller from the start, since the backstock of models remained warehoused for 2 years after production ceased. All VV-110s have identical features. The 110 was available in oak, mahogany or walnut, although mahogany remained the most common choice.
The original 1921 selling price of the 110 was usually listed in the sales catalogs as $225.00; however this price was reduced to $175.00 in 1923 when the VV-105 and VV-111 were announced. An estimated total of 21,800 Victrola 110's were produced. Factory records show that no electric versions of this model were manufactured.
The current collector database shows the earliest existent VV 110 to be S/N 591 and the latest to be S/N 21973.
| | | |
| --- | --- | --- |
| Manufacture Date | Serial Number Range | Feature Notes |
| 1921 | 501-17000 | |
| 1922 | 17000-22300 | |
Do you own a Victrola VV-110? Please take a moment and enter some basic information about your machine into the collector's database by clicking here. No personal information is required.