VE 11-50 X
RARITY: ¤¤¤¤ VALUE: ¤¤¤


---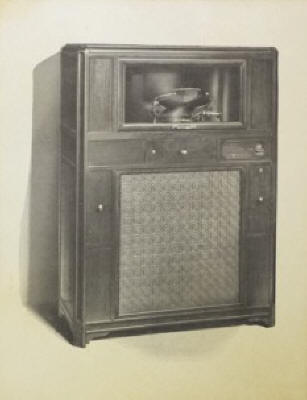 The VE 11-50 was Victor's first attempt at an electronic amplified coin-operated phonograph, using their second-generation record changer (same as used in the VE 10-70 and others). The VE 11-25 was a similar model, to the 11-50 but relied on acoustic reproduction using the large Orthophonic horn, similar to that used on many home models. The 11-50 had the advantage of using a powerful tube amplifier, producing more volume and somewhat better fidelity that the acoustic model. Other manufacturers had been in the coin-operated (jukebox) phonograph business for many years, but their machines were priced much higher than the 11-50, and Victor hoped to make their product more affordable for small restaurants and businesses. The user could not select a particular recording to hear; whatever was next on the stack would be the next song played after the coin was inserted. In addition, it required manual intervention by the owner to change the record stack after 12 records had been played. This inconvenience, along with the fact that the record changing system had some obvious reliability problems, doomed the 11-50 from the start. No radio was included with this model.
The original 1928 selling price of the VE 11-50 was set at $950.00. Factory records do not show any 11-50's being shipped, so it is possible this model was planned, but never actually produced. No documented surviving examples have be recorded.
Do you own a Victrola VE 11-50? Please take a moment and enter some basic information about your machine into the collector's database by clicking here. No personal information is required.