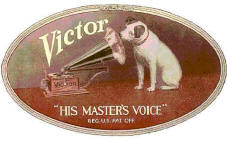 Oak Finishes
---
Describing oak finishes is a complex task, and some disagreement still exists within the collector community in properly identifying the exact oak finish used on a given machine. Victor sold a number of Oak finishes over the years, in a variety of shades and colors including Flemish Oak, Fumed Oak, Golden Oak, Weathered Oak, and many more. Oak is usually discernable by a "tiger-stripe" grain pattern. In addition most factory oak finishes are not quite as "mirror smooth" as mahogany or walnut, due the natural texture of the wood. Since there were so many oak finishes available, the colors and shading can vary significantly. Significant shade and color differences can even be noted between different examples of identical finishes due to slight differences in the veneer itself. Oak was very commonly used on the smaller machines (VV-IV, VV-VI, VV-VIII, etc.) and on external-horn Victors, but is slightly less common than mahogany on floor models.
The photos below offer a typical representation of the original finishes; however, significant variance in color or contrasts will frequently be found.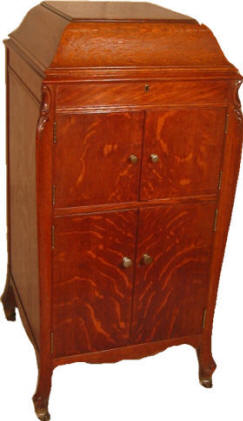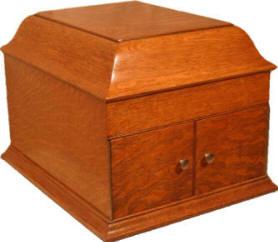 The most common oak finish is Golden Oak, which was available in several variations. Golden Oak is stained with a yellow-gold shade (left), and typically has the "tiger stripe" pattern. Some examples exhibit a strong yellow color (right). Buyers could choose from standard Golden Oak, Golden Polished Oak (with a highly polished and glossy finish) or Golden Waxed Oak, that has a dull finish covered only by wax. The textures of these variations are impossible to show on web photos. Virtually all external horn Victors that were produced in oak use this finish.
Fumed Oak was produced by a process wherein the wood was placed in a tank of ammonia fumes for a period of time. This darkened the wood significantly, and brought out the grain texture in a way that increases contasts. Colors can vary, but tend to be dominant in browns and tans rather than yellow or gold. There is quite a bit of dissention within the collector community in the identification of Fumed Oak, as some other finish options can produce a similar result. Note that the surface is not glossy; fumed oak finishes were waxed and not varnished. Fumed oak is sometimes called "pickled oak". The surface is slightly rough to the touch, but not "craggy".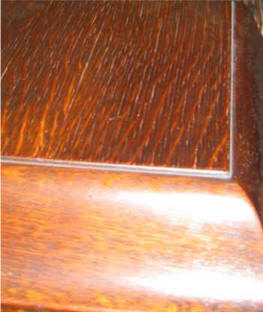 Antique Oak has similar colors to Golden Oak, but with more contrasts and a rougher, more textured finish. The "crannies" are stained darker than the peaks.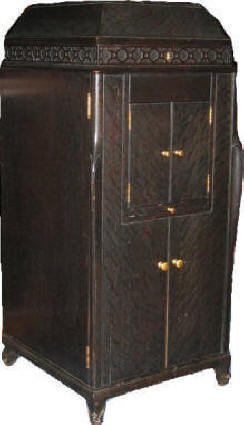 Flemish Oak was shaded with a very dark brown dye stain. It appears almost black in color, but the oak tiger-stripe grain is clearly visible on the surface. This is a fairly rare finish, and usually appears on the more costly Victrolas.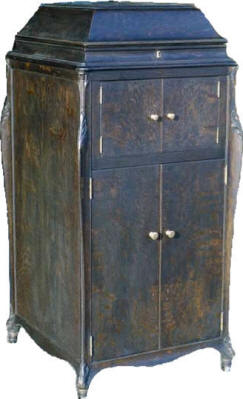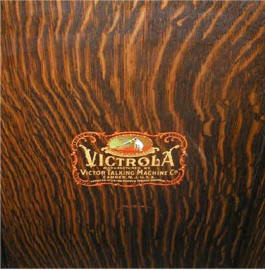 Weathered Oak has a rougher surface finish with a dark grain pattern, and often splotchy shades of lighter brown. Some weathered finishes on the more expensive machines are quite spectacular (right). It is possible that Weathered Oak was also a fumed finish with dyes added.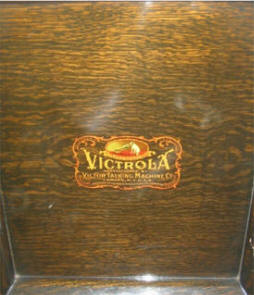 Early English Oak is similar to Weathered Oak with a very smooth, glossy finish.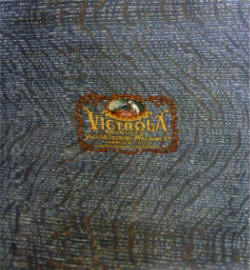 Driftwood Oak is a rare finish, and has a soft greenish or gray hue, similar to that found on ocean driftwood.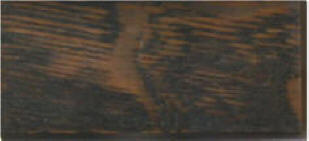 Gunmetal Oak is also a rare finish, with a dark gray-metallic shading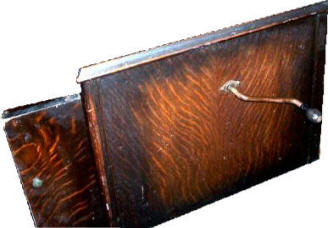 Antique Italian Oak was produced from 1924-1925 to improve sales of low-priced models. It is characterized by a strongly contrasting shades with a light center and dark surround, and a dominant wood grain.