V-XXV / VV-XXV / Schoolhouse
RARITY: ¤¤ VALUE ¤¤¤


---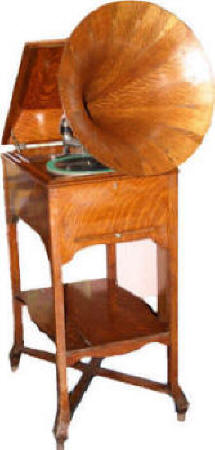 The Victor XXV was called the "Schoolhouse" model, and was intended for use in schools where it could withstand some rough use and be moved around conveniently. Made of basic oak, a lockable lid was provided to keep small hands from damaging the turntable and tonearm components. The earliest versions had a non-removable lid, but the design was soon updated so that the lid could be removed and hung from the back of the machine. In addition, design upgrades were made to allow the horn to be attached and stored under the machine via a hinge system on the bottom storage shelf. A pull-out shelf allowed a temporary location to store records. Prior to 1917, all models were designated V-XXV; subsequent to that date, they were called VV-XXV.
When introduced, the XXV sold for $60.00, but most schools were given a discount, as these machines certainly promoted Victor products to a broad audience of young listeners. An estimated total of 18,500 XXV were sold until the model was discontinued in 1925. By that time, the base price had risen to $115.00
Do you own a Victor XXV? Please take a moment and enter some basic information about your machine into the collector's database by clicking here. No personal information is required.