VV-XVIII / VE-XVIII
RARITY: ¤¤¤ VALUE: ¤¤¤


---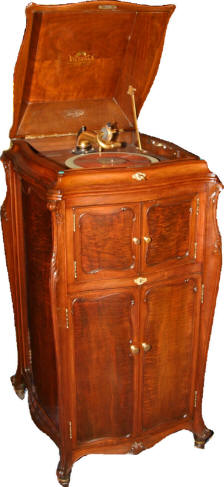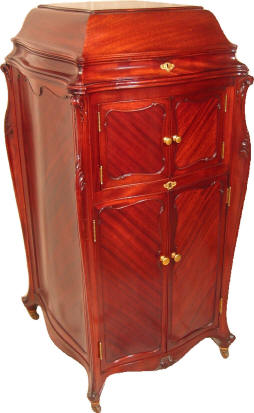 The XVIII was the most elegant non-custom phonograph that Victor made when it was introduced in the summer of 1915. This model had fancy hand carving, finely detailed veneer, and bowed front and side panels. Rare wood finishes were also available at extra cost. Sales were very limited due to the high cost of production (and the resulting high selling price), and within a year, the less expensive VV-XVII replaced the XVIII as the premier production model. The Period Victrola series (custom order only) was introduced in 1917, and eventually became the true aristocrats of Victrolas. But in 1915, the XVIII was the best standard catalog model available. Due to their relative rarity and beauty, these machines are prized by collectors today.
The original 1915 selling price for a standard finish (oak or mahogany) XVIII was $300.00. An estimated total of 3,408 hand-wound Victrola XVIII's were produced. Most documentation indicates that the XVIII models were made only in 1915 and 1916; however some records show that XVIII's may have been available by special order up until 1922. The price was discounted by $50.00 in late 1916 in order to clear backstocked inventory.
Electric motorized XVIII's (in standard finishes) sold for an additional $50.00 extra than the spring-wound versions. By the end of 1916, the electrics were aslo discounted to $300 to clear out stock. Factory data indicates that a total of 993 electric versions of the XVIII were produced during 1915/1916. However, existing serial numbers above s/n 1960 have appeared. While it is possible that some serial numbers were skipped in production, it is more likely that approximately 1500 VE-XVI's were manufactured.
The current collector database shows the earliest existent VV-XVIII to be S/N 508 and the latest to be S/N 3888. The earliest existent electric (VE) XVIII is S/N 505, and the latest is S/N 1932.
| | | |
| --- | --- | --- |
| Manufacture Date | Serial Number Range | Feature Notes |
| 1915 | 501-2800 | All XVIII's use the large glass speed control, and have gold plated hardware |
| 1916 | 2800-3908 | |
| VE-XVIII Electric | | |
| 1915 | 501-1033 | |
| 1916 | 1033-2000 | |
Do you own a Victrola VV-XVIII? Please take a moment and enter some basic information about your machine into the collector's database by clicking here. No personal information is required.