VV-XIV Serial Number 25058 Type B (Golden Oak) PRICE REDUCED!
Build Date: Approximately April 1913
Originality: 1- Totally original except turntable felt
Overall Condition: 3+ Excellent original finish and hardware. Slight discoloration, a few very minor chips, and a small burn mark on lid
(See the Ratings/Condition page for our grading scales)
---
The VV-XIV was one step down from the Victor "flagship" XVI model and was first introduced in late October, 1910. Since the XVI was selling so briskly at a whopping $200.00, Victor management decided that a lower-price machine should do even better in the marketplace, and thus the XIV was born. The first design iteration did not sell well; it appeared square-ish and a bit awkward, and in the summer of 1912, a new series (Type B) was introduced. It looked like a larger version of its smaller, very popular "cousin" the VV-XI. However, the XIV had a larger 3-spring motor and a much larger internal horn. The gold plating used on the first series was replaced with nickel to reduce production costs. At a price of $150.00, it sold slightly better that its predecessor, but it was not until October 1914, when yet another improved design was released, that the XIV really took-off in sales. Approximately 33,800 of these second-series XIV's were made during the 2 year production period (nearly a quarter million later-vintage XIV's were produced!), making it a rather unusual find today. This machine is absolutely original except for the turntable felt. We rebuilt the motor and soundbox and have only gently cleaned the cabinet. We would rank it a solid #2+ condition except for the presence of a small burn mark and minor discoloration on a 2" section of the lid, plus there are a few tiny chips on the trim; however these are not very noticible and does not detact from the beauty of the solid oak veneer. The 3-spring motor runs well, and performance is quite good. You can find more on the XIV by clicking here.
This would be an outstanding selection for anyone who wants an unusual Golden Polished Oak model in their home or as part of their collection. If originality is important to you, this is about as original as they come. As with all our phonographs, the motor, soundbox and all mechanical components have been torn down, cleaned and correctly rebuilt. It comes with our 2 year unconditional performance warranty.
See it in action on YouTube! Click here.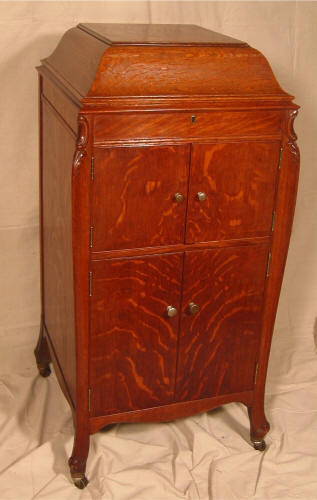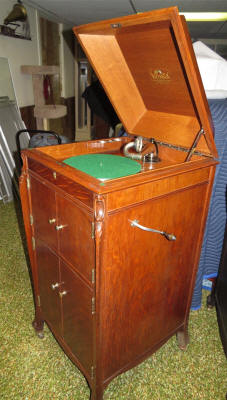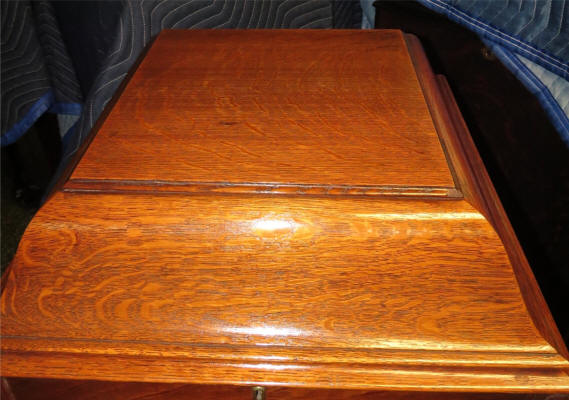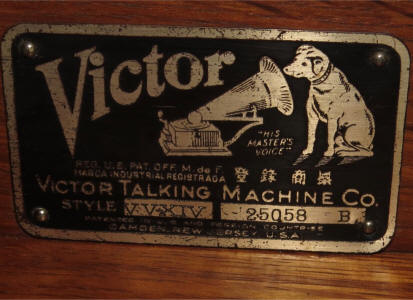 Price: $895.00 PRICE REDUCED: $695.00