VV-XII
RARITY: ¤¤¤ VALUE ¤¤¤


---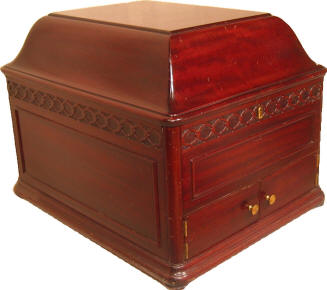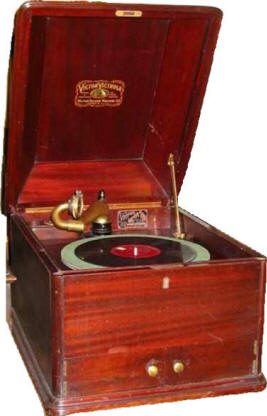 The XII was Victor's first attempt at marketing a tabletop model with an enclosed horn, based on the resounding success of the VV-XVI, Victor's first internal-horn floor model phonograph. First released in the summer of 1909 with a price tag of $125.00, it failed to sell well. In comparison to the large and elegant $200.00 XVI (Victor's only other internal horn model at the time), the $75 price difference was not sufficient to attract less affluent customers to purchase this relatively small machine. In addition, the XII had a very small horn, which sounded rather anemic in comparison to the XVI or the external horn models. The XII was discontinued after only one year of production. Due to their rarity and relatively early manufacture, these machines are prized by collectors today. Most XII's were produced in mahogany, but a few were produced with an oak finish. Early production versions have a very plain cabinet (left); some molding and carving detail was added for models produced after January, 1910 (right).
The selling price of the XII was $125.00. An estimated total of 4,913 Victrola XII's were produced.
The current collector database shows the earliest existent VV-XII to be S/N 504 and the latest to be S/N 5121.
| | | |
| --- | --- | --- |
| Manufacture Date | Serial Number Range | Feature Notes |
| 1909 | 501-3000 | |
| 1910 | 3000-5413 | Carving detail added under the lid. "A" suffix added. |
Do you own a Victrola VV-XII? Please take a moment and enter some basic information about your machine into the collector's database by clicking here. No personal information is required.